Shuttle X27D
Nice CPU. So why the poor chipset?
We watched some Apple QuickTime HD 720p movie previews and found that the CPUs were only loaded to 50 per cent but playback was still jerky, presumably thanks to the Intel graphics. The Bios gives a choice of dedicating 1MB or 8MB of memory to the graphics so we plumped for the full 8MB but it made no noticeable difference.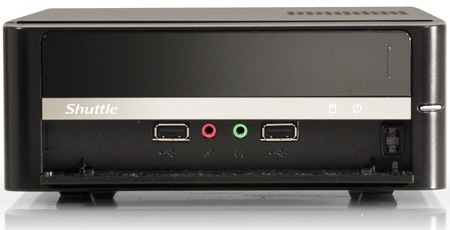 Basic header ports...
Indeed, the graphics are so weak that the DVI-I output requires a dedicated Silicon Image chip so don't, for Heaven's sake, think of the Shuttle X27D as a Media Centre.
Although it is small and near-silent, the Shuttle doesn't have the cojones for that particular job. What we're looking at is a regular PC that will appeal to the sort of people who hate a beige tower and have no desire to play games. That covers PC users who want the desktop equivalent of a netbook only with a proper mouse, keyboard and display, which reminds us that you also need to budget for those peripherals, along with a set of speakers.
The upshot is that the Shuttle X27D is a relatively expensive PC and it's not difficult to argue that it places form above function. Hmm, where have we seen that before?
If you go for the X27D, you'll find that assembly isn't especially difficult but it took us a couple of goes to get the hard drive in the correct position so we could route the tiddly SATA cable properly. We don't have any spare laptop DVD drives here so we had to cheat and use a regular desktop SATA drive that we laid on the bench.
...but plenty more on the back
The alternative is to buy a pre-built system from the likes of Ambros or PCMeisters who offer the option of 'Modest Overclocking – Free of Charge'
Sponsored: Minds Mastering Machines - Call for papers now open