The hitman, the Pirate Bay and the freetard prof
The prank that fell flat
REG: What's the point of fighting for his right to have babies when he can't have babies?! FRANCIS: It is symbolic of our struggle against oppression! REG: It's symbolic of his struggle against reality - Monty Python's Life of Brian.
Everyone's a prankster these days - it's all in the name of art.
On Monday a former Irish loyalist hitman was sentenced to 16 years in prison for the attempted murder of senior Sinn Fein leaders. Michael Stone had burst into the Belfast Assembly with nail bombs, a garotte, an axe and knives, but was quickly wrestled to the ground. In court, Stone claimed the event had been a piece of "performance art".
Stone's paintings had exhibited at Belfast Engine Room Gallery. In court, Stone was defiant: "Make art, not war," he told an unimpressed judge.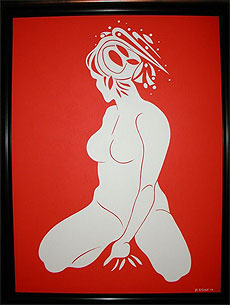 A Michael Stone original
But Stone's not alone. Last week two art school students in the Netherlands released a software prank. They developed a Firefox brower plug-in that redirected Amazon.com surfers to unlicensed versions of the same material on P2P site Pirate Bay. The Pirates of the Amazon (geddit?) plug-in was quickly withdrawn after Amazon.com lawyers got in touch with the students' ISP.
Florian Cramer is course director of the Media Design program at Piet Zwart, a faculty of the Willem de Kooning Academy Hogeschool (art school) of Rotterdam, from which the prank plug-in was launched. Cramer was somewhat less defiant than Michael Stone. Rather than basking in the publicity, he wrote an extended whinge on the Nettime mailing list:
"With the take down notice from Amazon.com, our students have been scared away from pursuing their art, research and learning in our institute," he bleated. "We do not want a culture in which students have to preemptively censor their study because their work confronts culture with controversial and challenging issues."
Sponsored: Minds Mastering Machines - Call for papers now open