Logitech launches padded Lapdesk
Work in a cold climate
As the winter temperature plummets and heating costs rise, Register Hardware's hacks have grown fond of the leg warmth generated by laptops. But if you're not a fan, check out Logitech's latest.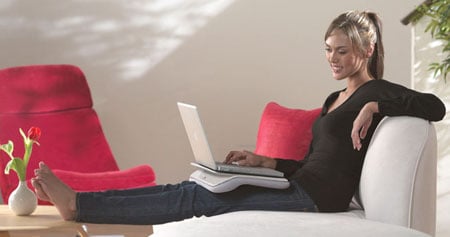 Logitech's Lapdesk: keeps your legs cool
Lapdesk has a padded underside and is designed to sit on your lap as you work, preventing your machine's thermals from causing a few minor thigh burns.


Air-mesh padding
The padded underside is woven into an air-mesh pattern that's presumably designed to let cooler air circulate around them.
Logitech said that its Lapdesk can accommodate both PC and Mac laptops of up to 17in, although given the gadget's all-white design we'd guess that Apple users are the primary target.
Logitech's Lapdesk is expected to appear in the UK next month for £30 ($44/€34).
COMMENTS
@ Iain
was going to say the same but got beaten to it! over-engineered response methinks, by ilogicaltech
paris cos she wants to avoid thigh problems
Um, £30?
Go to Woolworths (if they still exist by the time this is posted) and you can get a lap-tray (a tray with a beanbag style cushion stapled to the bottom) for £4. Does exactly the same thing, been using it for years. Even has some pretty flowers printed on it.