Samsung SyncMaster 2263DX 22in monitor
A neat idea packed into a nice chassis
There is a swivelling mount that sits behind the main monitor, allowing the sub-monitor to be positioned almost anywhere around the main screen. Alternatively the sub-screen can stood on its own like a digital photo frame.
The Samsung 2263DX is housed in a glossy black casing, which looks good in just about any setting and includes a pair of USB ports on the back, recessed speakers and a 3Mp webcam at the top. The entire effect is very sleek, with no protrusions at all.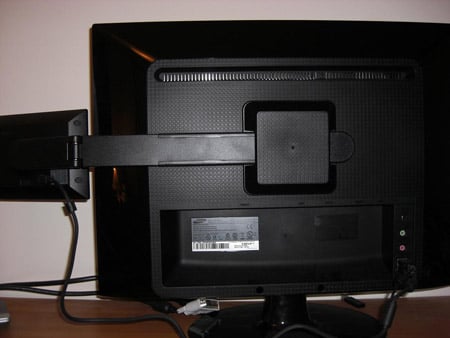 The back mount means the sub-monitor can be moved anywhere around the screen
The speakers are embedded underneath and are well hidden, only visible if looking from directly below. The sound is pretty decent given the limited size and should be sufficient for those with basic audio requirements.
There are also headphone and microphone connectors, however there is no line audio input, because the 2263DX features an integrated audio card with a USB interface.
Keeping with the monitors sleek looks, the controls at the base of the screen are touch sensitive. We found them to be very responsive making it easy to configure and adjust settings as required. The on screen display is pretty straight forward and offers all the usual adjustments.