WowWee Rovio Mobile webcam
All Terrain, Armoured... webcam. Well, almost
The online interface won't let you record the video feed but you can take still images and have them e-mailed automatically, which should be ideal for getting a mug shot of a burglar just before he drops kicks the Rovio clean across the lounge and makes off with your flat-screen telly and DVD player.
Once away from the dock and roaming, the Rovio's battery is good for around an hour or so of use. A word of advice, though: make sure you site the dock with plenty of clear open space around it – nearby furniture seemed to sometimes mess with Rovio's ability to dock itself, and trying to dock the thing manually can test the patience of a saint.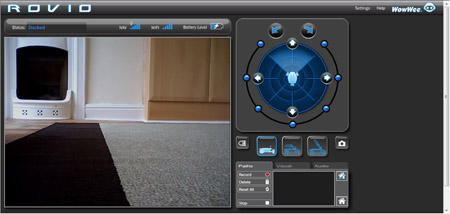 The control interface during daylight...
Using the Rovio as a remote control guard dog while you're away has the downside that you need to keep it switched on and the dock plugged in. OK, at no point in our test did it, or the dock, get even remotely warm, let alone hot, but if you're the type of person who turns everything off bar the fridge when you go away for more than 48 hours, leaving your Rovio powered up may present issues on the peace-of-mind front.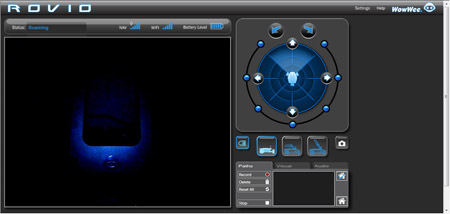 ...and in dark conditions
Potential uses? Well, the makers suggest interacting with your boss by plonking a Rovio on the boardroom table during meetings or keeping in touch with your offspring while you are away. We aren't wholly sure about either – the former seems a good way to get fired, the later an even better way of ensuring your kids will need therapy. "So tell me, when did you first start having these nightmares about being chased around the house by a cybernetic tortoise that spoke with your father's voice?"
Verdict
Is the Rovio worth £250? Not really, no. At the end of the day, like the Roomba 560 robotic vacuum cleaner, it's an extremely fine example of 'useless but cool': great fun for chasing the cat around when you're 5000 miles away – or just in the next room - but as a tool for remote interaction it's just too much of a toy.
Sponsored: Minds Mastering Machines - Call for papers now open

WowWee Rovio Mobile webcam
The Rovio remote control robotic webcam is fun, and you probably won't be disappointed. Just don't try to justify the cost with a practical day-to-day use.