WowWee Rovio Mobile webcam
All Terrain, Armoured... webcam. Well, almost
The webcam has three height settings. The lower two give you pretty much the same point of view, while the top most seems to be mainly for the Rovio's own use in docking - if you put the cam in position three, all you can see is the ceiling.
The Rovio's headlight is useless - think of the the worst mobile phone LED camera flash ever, then reduce its power by 50 per cent. Anything immediately – and we mean immediately - in front of the Rovio's headlight gets illuminated but things outside the 5cm diameter pool of light are left swathed in a Stygian gloom. Using the headlight to navigate around a dark room is a truly farcical exercise in pointlessness. You will be as the blind man in the dark room looking for the black cat that isn't there.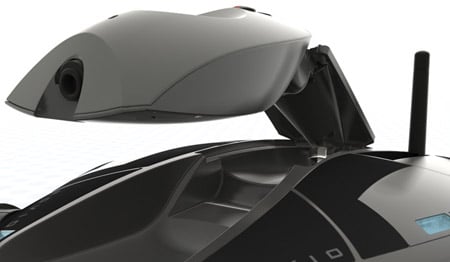 All Terrain, Armoured Webcam... almost
You do also get a pretty rudimentary IR "radar" which indicates obstructions ahead but as it represents any impediment as a simple bar across your path you can't use it identify specific objects.
Unfortunately, the light is not the only thing about Rovio what works less well than you might expect. The microphone, while sensitive enough, generates a rather distorted and boomy signal. The speaker is downright poor. So poor, in fact, it prompted us to check our microphone settings. One quick Skype test call later to make sure all was in order, we tried again - this time setting the volume on the Rovio's speaker all the way to maximum – but heard little in the way of improvement. The sound was still too quiet and rather muffled.
Thankfully, there was nothing wrong with the quality of the video feed from the webcam, which at 640 x 480 and 30f/s was clear, precise and smooth, at least in good light. The video feed can be set to three lesser resolutions and the frame-rate setting can be adjusted to anything between 1 and 30, presumably to cope with slower internet connections. Of course, that was using IE7. Move over to Firefox and a Motion JPEG stream, and everything looks altogether less impressive.