WowWee Rovio Mobile webcam
All Terrain, Armoured... webcam. Well, almost
Up to ten pre-programmed paths can be set up for Rovio to follow. The downside of this is that all paths are referenced back to the navigation beacon on the dock. If you want to plan a wandering path between several rooms you will need to buy extra TruTrack Room Beacons - one per room would be our suggestion - at $20 (£14) a go.
If you want to access your Rovio from an external network, you'll need to make the relevant port-forwarding changes to your wireless router. This is a fairly straightforward operation, and the Rovio user guide provides step-by-step instructions.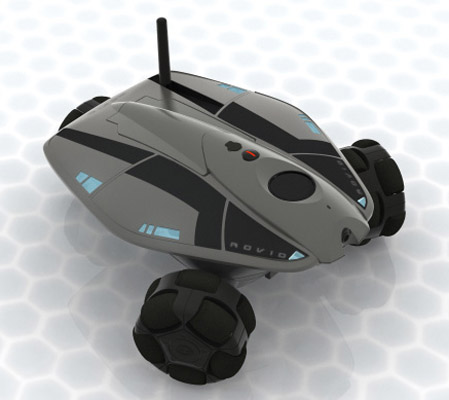 Less Optimus Prime more Mars Rover
A fair degree of thought has gone into the web-based navigation interface. As well as the expected forward, back and turn commands you can also 'side-step' left and right while keeping the same orientation, or click to turn the unit through 45°, 90°, 135° and 180°, clockwise or anti-clockwise. Dragging the device icon around the navigation screen will also move the Rovio, but this takes some practice.
The turn and movement speeds can also be changed, in effect altering the subtlety of the controls. After a few minutes' practice, 'driving' the Rovio becomes painless.
Because the crab-wise left/right command uses only the rear wheel, the Rovio does shift its alignment by about 10° before it starts to move, but that's about the only navigational quibble we had.
Sponsored: Minds Mastering Machines - Call for papers now open