WowWee Rovio Mobile webcam
All Terrain, Armoured... webcam. Well, almost
Set up is straightforward. Just assemble the base station, plug it into the mains, install the Rovio's batteries then put it on the base station to charge for around two hours. Next, plug it into a PC by USB cable and run the supplied software to link it in to your 802.11b/g Wi-Fi network.
Bookmark the web page that acts as your command and control interface and you're done. The Rovio software is Windows only but the user guide also includes detailed instructions on how Mac users can set everything up manually.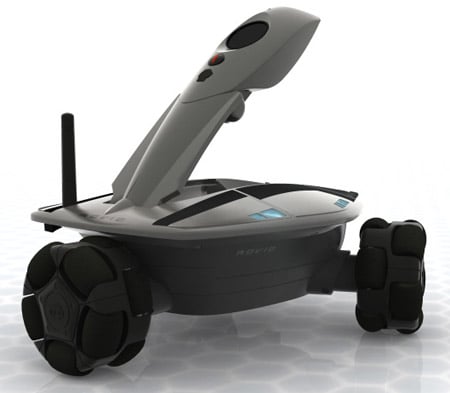 Nosey
A word of caution. Fans of Firefox, Opera or Safari will have to swallow their pride and get reacquainted with Internet Explorer because while Rovio works with those browsers it does so in a pretty half-hearted way. The Rovio's audio feed is only supported by Internet Explorer, and while IE users get an MPEG 4 video feed, others have to make do with Motion JPEG. Mac users should also note that IE on the Mac only goes up to version 5.2.3, and Microsoft doesn't even offer it as a download any longer.
We found everything worked as advertised with Firefox but that the video feedback was appallingly slow when using Opera. At the time, we had both browsers running on a Linux-driven Acer Aspire One.
The Rovio has pretty limited navigational 'intelligence'. Once you've set up the basestation and made sure two infra-red beacon lights are pointing at the ceiling, you can set the location as "home". As long as Rovio is in the right room and can locate the beacon, hitting the Home button will send it scurrying back to its dock for a re-charge.