Samsung Q310 13.3in laptop
Power and portability at a presentable price
Somewhat over-optimistically, we tried out Call of Duty 4, but at its native resolution the Q310 could only muster up just over 10f/s. This doubled when we knocked the resolution right down, although it wasn't an enjoyable experience. Older games will fare better, but it's best to label this laptop as 'not for gamers'.
Battery Life Results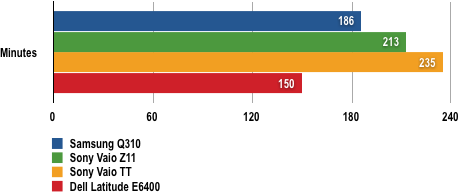 Battery life in minutes
Longer bars are better
Battery life is decent, though. With the Q310 set to Samsung's default power settings and PCMark05 running in a loop, we recorded three hours and six minutes. Keep in mind that this is a pretty heavy going test - should you do little more than word processing, the Q310 will be good for much longer and we managed just over five hours with very light usage.
A nice touch is the power meter on the battery, which lets you see the remaining charge without having to fire the blighter up first.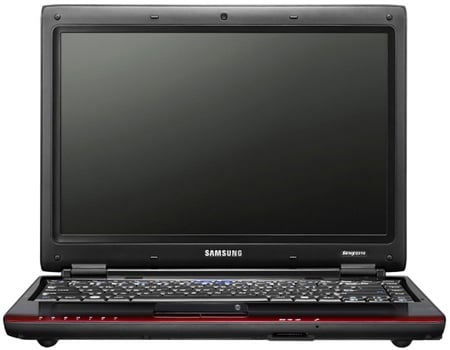 Red lipped
Given the relative low price of this laptop, it's no surprise to find the hard drive is a standard 5400rpm model. That said, the Hitachi 5K250 can pack in up to 250GB of unformatted storage capacity, which should be enough for most folk.
Samsung promotes the Q310 as an ultraportable laptop, but at 2.1kg it's not the kind of thing you're going to want to lug around on long walks. What's more, add the power brick into the equation and you're looking at more like 2.6kg, which is really pushing the definition of 'ultraportable'.
Verdict
If you've an eye on gaming, the Q310's 9200M GS graphics will no doubt disappoint, but the P8400 processor managed to push through some decent benchmark scores and at £699 you're getting a fair amount of tech for your money. Build quality and aesthetics aren't as spectacular as Samsung would have you believe, but despite our grumbles it's hard to level any serious complaints at the Q310. Ultimately, it's great value for money and would suit those who baulk at the thought of a netbook but are watching their pennies.
More Notebook Reviews...
| | | | |
| --- | --- | --- | --- |
| Sony Vaio Z11 | HP HDX16-1000 | Sony Vaio TT | Dell E6400 |
Sponsored: Minds Mastering Machines - Call for papers now open

Samsung Q310 13.3in laptop
Weakish graphics and a cheap-feeling chassis, but the Q310 would suit anyone who says no to netbooks.