Samsung Q310 13.3in laptop
Power and portability at a presentable price
The left side of the chassis is home to VGA and HDMI outputs, while the DVD drive sits on the right and will etch out truly uninspiring images onto any Lightscribe discs you might have. The drive sits alongside an ExpressCard 34 slot, audio sockets and the third, more sensibly-placed USB port.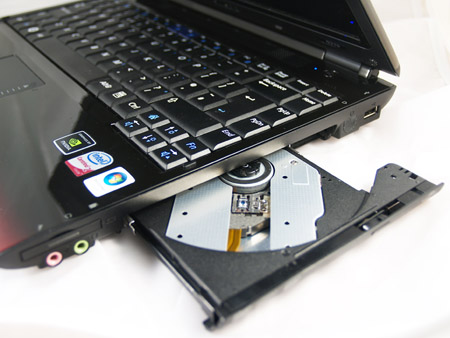 The DVD has a Lightscribe feature – for all your disc-etching requirements
Seven indicator LEDs are dotted along the front of the chassis, but there are no easy-access switches to turn off Wi-fi and Bluetooth. Sat just underneath the lip is a multi-format card reader that will accept various flavours of SD, MMC, XD and Sony Memory Sticks.
The 13.3in widescreen display has a 1280 x 800 resolution and looks impressive, with Samsung's SuperBright glossy coating giving contrast a boost. However, its poor vertical and horizontal viewing angles mean you have to sit square-on to see it at its best and, as with all glossy displays, it's a magnet for reflections.
A 1.3-megapixel camera is embedded into the the screen's bezel, while two 1.5W speakers sit just underneath the display and provide reasonably loud but horribly tinny audio.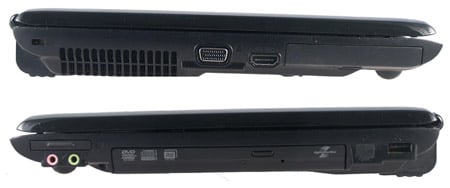 Port placement on the Q310 could be better
Being a fully-fledged Centrino 2 laptop, the Q310 supports dual-mode 802.11n wireless networking thanks to Intel's Wi-fi Link 5100 card. Unlike the three-antenna Wi-Fi Link 5300, this card only has two antennae. The Q310 also comes with built-in Bluetooth, but there's no HSDPA 3G connectivity on board.