RIM Vodafone BlackBerry Storm
Attempts to take on iPhone, fails...
But clever and capable though it is, there are still a few problems with the general operation of the Storm. It's slow, for one thing, and took ages to flip between menus. Now, when we say ages, we actually mean a couple of seconds, but that can seem like a very long time with mobile phones. Our test sample also seemed a bit buggy – we lost the keyboard at one point and were only able to get it back by removing the battery and restarting.
This also happened with another Storm sample that we're aware of, which gives the impression it's not an individual problem. The browser seized up and switched itself off a bit more often than we'd be comfortable with too. A replacement model ironed out some of the problems, but the frustration we felt at the lack of speed tended to cancel out any good feelings we had about the phone's many good features.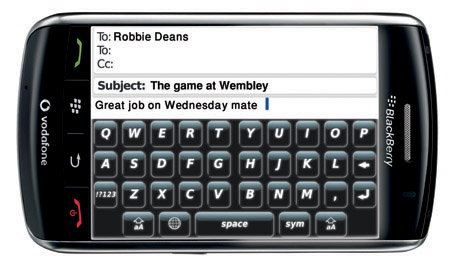 This is the first BlackBerry that has disappointed us in terms of using email
Worse, the Storm's battery life was quite shockingly poor, and we barely made it to three hours in our first day of use – that's with maybe about 30 minutes' browsing, playing a few songs, and a dozen or so minutes of calls. As with all today's smartphones, you can extend the battery's life by reducing screen brightness and cutting back on background apps, but the Storm is still a long way from the top drawer.
Call quality was fine in our part of north London, as was the GPS when with Google Maps, which did what it does with its usual efficiency.
Vodafone has the UK exclusive on the Storm and it's offering the handset free with a £35-a-month airtime package. But you'll be tied in to a two-year contract and you're limited to 500MB of data transfers, which may be plenty for some users, but may not be if you're planning to make full use of the Storm's potential for downloading video. An extra 5GB of data per month will set you back £22.50.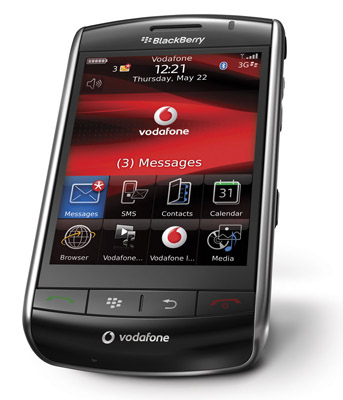 Call quality, good. Battery life, not good
There's the suspicion that the Storm may have been rushed, despite the hype that's been going on for months. Besides the slow OS - BlackBerry 4.7, since you ask - and feeble battery life, the 'Application Center' mart looks distinctly understocked compared to the app stores launched for the iPhone and the Android-packing T-Mobile G1. Still, it's got specialist apps for Facebook, Flickr and YouTube along with a few instant messaging clients, though without the geek caché of the Mac and Android fanbase, it's possible it may never achieve the variety those devices will be able to offer.
Verdict
In trying to take on the iPhone at its own multimedia touchscreen game, RIM has alas come unstuck, to the extent that we think the company could well alienate its core users: business customers who've come to expect hassle-free email.
The screen is certainly good, but the click mechanism makes email entry a pain. Couple that with the slow speed, the lack of Wi-Fi and that poor battery life, and we find this a hard phone to recommend.
More Smartphone Reviews...
| | | | |
| --- | --- | --- | --- |
| Nokia N96 | HTC Touch HD | T-Mobile G1 | Palm Treo Pro |
Sponsored: Minds Mastering Machines - Call for papers now open

RIM Vodafone BlackBerry Storm
Good looks and a cracking screen - but slow and awkward operation take the wind out of this Storm.
Price:
Contract: From free. Handset only: £400 RRP