RIM Vodafone BlackBerry Storm
Attempts to take on iPhone, fails...
Next to email, the other main BlackBerry selling point is browsing and here too the Storm starts well but ultimately falls down. There's a fast-ish HSDPA 3G link on board, but no Wi-Fi, which is a serious omission shoudl you you want to access your company's intranet, use hotspots, or even your home or office WLAN. No current HSDPA link is ever going to get close to proper broadband.
Speed issues aside, the browser's actually very good for the most part. You can use full page or column mode, there's the option to use your finger as a cursor and the on-board accelerometer will flip the screen to portrait or landscape as you choose. A quick tap on the screen will zoom into a column of text, iPhone-style, though you'll need to use the zoom icon at the bottom of the screen to pull out again. If you've got good reception, it all adds up to an easy and intuitive browsing experience.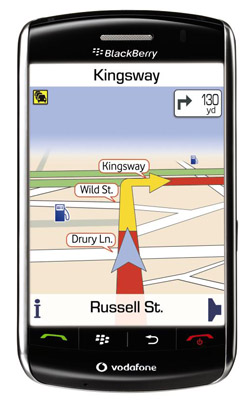 The GPS works with Google Maps
The 3.2-megapixel camera isn't the current state of the art, but it holds up pretty well, so long as you're not in a rush. It's quick enough to get into - around three seconds after you press the shutter button on the side - but focusing and snapping takes about five seconds, way too long to catch the moment in many cases. There's a 2x digital zoom and a reasonably effective flash, but not much in the way of post-snap editing tools.
The pictures themselves are decent enough if taken in good light, and the screen is sufficiently sharp and detailed to show them to good effect. Video recording is okay - the resolution's 320 x 240 - and displays reasonably well on the screen, with surprisingly crisp motion and realistic colours.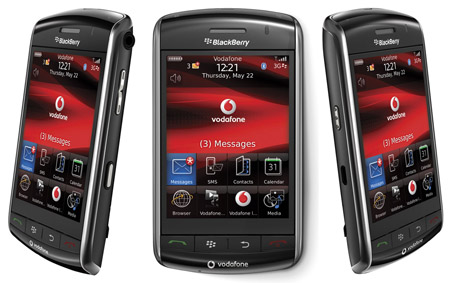 There's no Wi-Fi - a serious omission
The Storm struggles a bit with fast movement, but overall it's better than we'd expected. The music player does a good job too, though it took us a while to work out that the volume controls on the side double-up as forward and back nudges when you hold them down.
Incidentally, this phone goes LOUD, and sounds good and bassy through the supplied earphones, though for a more refined listen there's a 3.5mm socket so you can add your cans of choice. There's a graphic equaliser with a dozen presets, and while there's only 1GB of memory on board, you can expand this by up to 16GB at a time with a Micro SD cards. However, one isn't provided as standard.
Sponsored: Minds Mastering Machines - Call for papers now open