Sony Ericsson Walkman W902 mobile phone
Image-conscious Walkman phone gets a snappier snapper
The overall look and feel of this candybar is similar to Sony Ericsson's 5-megapixel C902, with a neatly slim profile with rounded edges, and a clean, classy design. Measuring 110 x 49 x 11.7mm and weighing 99.8g, it's nice and solid in the hand without being a pocket-sagger. The black version we tested, at least, looks neat (it's also available in 'wine red' and 'earth green').
It works its mix of glossy black and matt plastic well, giving it an attractive understated look that'll have widespread appeal. The numberpad buttons are neatly designed too. Small and narrow without being sliver-thin (like the W880i), they're well spaced, and are pleasingly responsive for fast text tapping. The control buttons, positioned around a decent-sized central navigation D-pad control, are more tightly arranged, but are adequately defined to avoid excessive mis-pressing.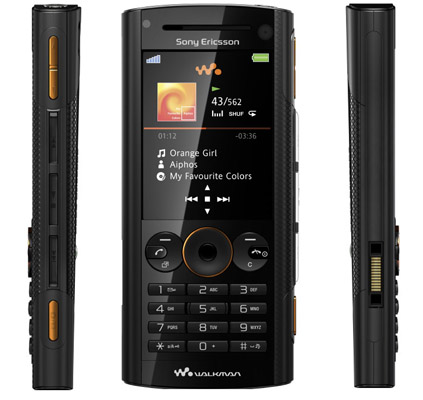 It has an attractive, understated look - also available in 'wine red' and 'earth green'
Conventional softkeys plus Call, End and Clear buttons are present, along with a standard issue Activity Menu shortcut button for quick access to lists of useful functions and applications. Its display's not out of the ordinary; it's a typically mid-tier Sony Ericsson 2.2in, 262k-colour QVGA (320 x 240 pixels) TFT screen, which is covered in scratch resistant glass (in our unscientific keys-and-coins pocket test it came out unscathed). A video call low-res camera is subtly tucked above it.
The dedicated music keys on the W902 are lined up on the side of the phone, the same busy flank as the camera and volume control buttons. These play/pause, forward and rewind buttons are useful for working the music player when it's on in the background as well as when it's centre stage onscreen, when the D-pad also doubles up as music player controls. A silver Walkman hotkey sits on top of the phone.
At a press, this fires up the music player. But it is also the key for triggering the track- and volume-changing Shake Control mechanism. It uses the motion sensor accelerometer inside the phone – which also rotates the display automatically for certain features. Holding in the Walkman button and flicking to one side or the other changes tracks back or forward (or to shuffle), while up and down movement alters volume.
Problem is, it's very gimmicky and very difficult to use effectively because of the position of the Walkman button. Fingers inevitably stray on to the side music and volume controls (randomly changing track and volume) as you're trying to awkwardly hold and flick properly. Trust us, you could far more easily just press the side buttons on purpose instead, and save the bother of that tricky-flicking.
Sponsored: Minds Mastering Machines - Call for papers now open