Logitech launches real wood guitar at virtual-axe Heroes
Guitar Hero here we come...
Logitech has shat all over those plastic Guitar Hero frets with the launch of a gaming axe that looks and handles like the real thing - because most of it actually is.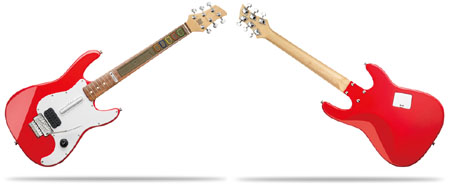 Logitech's Wireless Guitar Controller
The Logitech Wireless Guitar Controller's body is solid, thanks to its real wood neck and rosewood fingerboard. The frets - which don't "clickety-clack" - and peg handles are constructed from metal, and the strum bar's supposedly "quiet as a whisper".

2.4GHz connectivity
But the guitar's got one feature that even Jimi Hendrix's planks didn't have: 2.4GHz wireless compatibility, allowing it to connect into your PlayStation 2 or 3 for virtual Guitar Hero strumming. It has a wireless range of up to 30 feet.
The guitar runs on two AA batteries, comes with a strap and is compatible all Guitar Hero games on the PS3 and Guitar Hero World Tour on the PS2.
Logitech's Wireless Guitar Controller will be available later this month, priced at around £150 ($250/€200).
COMMENTS
This this is a toy...
So why is it the price of a reasonable entry level instrument?
I wonder if you could design something to clip on a real (cheap) electric guitar? Most music stores do a cheap "decide if you like electric guitar" pack for about a hundred quid with a guitar and amp - bundle the two and you'd get Guitar Hero controller which becomes a real guitar after Xmas.
Idea.....
Have an option to add strings and play like a would-be* grown-up! If those are real machine-heads, shouldn't be rocket science. The buttons might get in the way though.
Son: Dad, when I grow up I want to be a musician
Dad: Sorry son, you can't have it both ways
Sad
Doesn't matter how "real" the geetar might feel, GH is still FUCK ALL like playing a real musical instrument.