Facebook phone goes on sale
INQ1 ships
Social networking fanatics can now get their online fix when they're out and about, because 3 today began selling the INQ1 Facebook phone.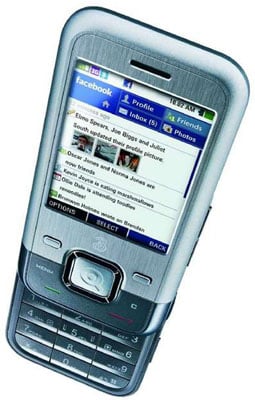 3's INQ1: for Facebook
Although the INQ1 was announced quite a while back, 3 – the phone's exclusive UK carrier – has kept mum until now about exactly when punters will be able to get their mitts on the talker.
The INQ1 is a slider designed with just one thing in mind: social networking. It features access to a whole series of communication apps, including Facebook, Windows Live Messenger (WLM) and Skype.
Manufactured by Amoi, the INQ1 runs on a platform designed by self-styled "new company" INQ, which claimed that the device is "the world's most advanced social networking phone".
It also has a 3.2-megapixel camera, HSDPA 3G connectivity at up to 3.6Mb/s, and a 2.2in display.
3 said the INQ1 is free on a £15 ($25/€20)-per-month tariff, which gets you unlimited Facebook, Skype, WLM and web access. That's in addition to 75 minutes of calls to other networks, and unlimited texts, email and 3-to-3 calls.
A £20-per-month tariff gets you all of the above, but with 200 minutes of calls to other networks. The phone's also available for £80 ($120/€90) on PAYG, with web-access packages starting at £5.
Don't forget to check out Register Hardware's first look review of the INQ1 phone.
Sponsored: Minds Mastering Machines - Call for papers now open