Green Hills spins out military Integrity for masses
An OS that secures OSes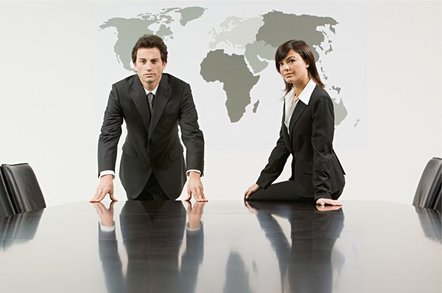 The military has always had better security than we can get on our computers, and Green Hills Software, a provider of a real-time, secure operating system called Integrity, wants to change that. To that end, the company has spun its Integrity operating system into a wholly owned subsidiary called Integrity Global Security and has set it loose with the job of becoming a kind of security abstraction layer for Windows, Linux, and Solaris guest operating systems on x64 iron.
David Chandler, who was vice president of sales of Green Hills and helped push the company up above $100m in sales, has been tapped as chief executive officer of the new unit, which is going to try to take Integrity mainstream. Thus far, Integrity has been used mainly in embedded systems and usually in military equipment. Chandler concedes that Green Hills came late to the embedded systems market, but with more than $100m in sales and profits to boot, the company is doing as well as its peers, who do not generally focus on security as their driving theme.
Green Hills was founded in 1982 by Dan O'Dowd, but didn't get into the operating system business for the embedded market until the mid-1990s. The Integrity operating system was announced in 1997 and was significant at the time because it allowed multiple applications to run in a secure and predicable way on a single processor because its "secure separation architecture" was created from the ground up to guarantee specific CPU resources to multiple applications and to rank which applications get priority over others.
This is kind of important in a weapons system, which is why Lockheed Martin chose the Integrity real-time OS for use in America's B1-B bomber. The software is in use today in the F-16, F-22, and F-35 fighters deployed by the American military and is also used in the new Airbus 380 and Boeing 787 commercial aircraft. The Integrity OS runs on x86/x64, ARM, and PowerPC processors and has a POSIX interface, which allows Unix apps to run on it. Integrity has its own native interface as well.
The Integrity OS is the first - and according to Chandler, the only - operating system to be certified at the EAL 6+ security level by the Common Criteria security rankings. "Integrity is for environments where you expect hostile, repeated attempts to breach security," explains Chandler. (You can see the Common Criteria certifications here for all kinds of software and appliances).
The specific implementation of Integrity that was given the EAL6+ rating was Integrity-178B with the separation kernel TOE, the latter acronym standing for an embedded version of the operating system that does not include a file system, shell, or user logins, but rather is a security hypervisor that sits between an operating system and, in this case, a PowerPC embedded processing card. The stripped down TOE variant of the Integrity OS makes Windows, Linux, or Solaris think they are running on a normal computer and have full access to their drivers, but Integrity is in control of access to drivers and the iron.
This TOE is the interesting new twist for Green Hills, and it is the result of work that Green Hills began in 2003 for the National Security Agency and the Air Force, when the full real-time OS was picked up for use in the F-22 and F-35 jets. To maintain security between networks used by the four branches of the U.S. military, these networks and their systems are kept absolutely separate.
But NSA commissioned Green Hills to modify the Integrity OS so it could become a virtual security layer to run Windows, Linux, and Solaris atop a single network of machines (using x64 processors), allowing for four links to four different military networks - Army, Navy, Air Force, and Marines - to all happen in a secure way from a single PC. This variant of the Integrity OS was commercialized as Integrity PC and began shipping in 2005.
With the spinout of this variant of the Integrity OS into a separate business, Chandler says that Green Hills wants to extend this security layer from PCs to servers and bring it into commercial environments where security is becoming more of a big deal. As such, the Integrity Global subsidiary will be focusing on selling products to secure PCs, thin clients, and servers in banks, nuclear power plants, call centers, and other businesses. Green Hills itself will sell the full Integrity real-time operating system for military and commercial embedded applications.
Integrity Global is still working out the kinks for how it is going to package up its wares for PCs and servers and is still working on what pricing schemes it plans to use. ®
Sponsored: Minds Mastering Machines - Call for papers now open