A last hurrah: Matching info challenges with functional capabilities
What about the stuff we're not so good at?
Over the last few articles, we've talked about the pain of getting information to the people that need it, and discovered that most of you don't consider information or data management/delivery capabilities as a high priority when thinking about components to include in an application platform. Many of the comments to the articles went on to highlight information delivery as being a challenge involving people, training and processes, rather than a technical one.
Bearing all this in mind, we round up by reporting back to you on the mini poll we ran on Monday, which sought to compare some information-related challenges at a business level (figure 1), with how people perceive their ability to deal with them from a functional point of view.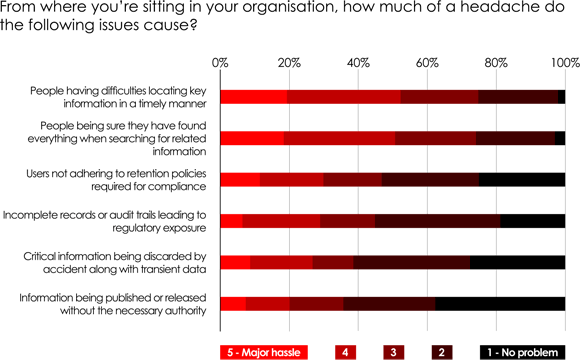 It's interesting to note that the challenges highlighted by Reg readers as causing the biggest headaches seem to be weighted towards 'functions', such as search/discovery, rather than process or policy-driven areas. While this seems to be slightly at odds with some of the anecdotal comments we received, when we balance these challenges against functional or technical capabilities (figure 2) we can see that organisations are having a harder time with stuff like tracking down information, because these capabilities are relatively under-served in their organisations. The word 'relative' is poignant here because as you can see, the majority of Reg readers don't consider any of these areas as a done deal.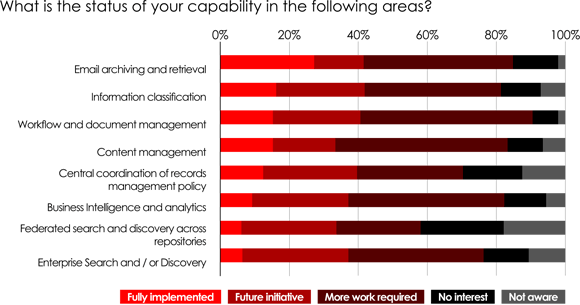 So, where does all this leave us? One thing we can say with certainty is that there isn't much in the way of consistency between organisations when it comes to getting things right from a process or policy or technical/capability point of view. We're finding, for example, that firms which see IT as an enabler of efficiency tend to be more efficient at finding information, and those that see IT as an enabler of business value and advantage tend to be better in areas such as compliance. However, to an individual business, that really doesn't matter. What does matter is realising the value in seeking to cross-fertilize these relative strengths to address the corresponding weaknesses. It also goes some way to explaining why half the audience is telling us it's a technology challenge, while the other half says it's a people and process issue.
One thing is for sure: there's a balance to be struck between these two camps, and we're nowhere near it. It is clear to see that many of us are pretty good on one or other of these 'two sides of the coin', but collectively we've only just started to really nail the challenge of helping our businesses exploit the information and data residing in them. But started we have, and that's a pretty positive thing. ®
Sponsored: RAID: End of an era?