Logitech Digital Video Security System
The webcam, reborn
To get around this, you can also use WiLife to send yourself email 'alerts' that contain either video clips, still images or simple text messages warning you that the system has detected some movement. This is handy in the event of false alarms – such as the neighbour's cat peering in through a window – but it also means that in the event of a real break-in the emailed video alerts can be safely stored on a separate machine, or simply left on your mail server.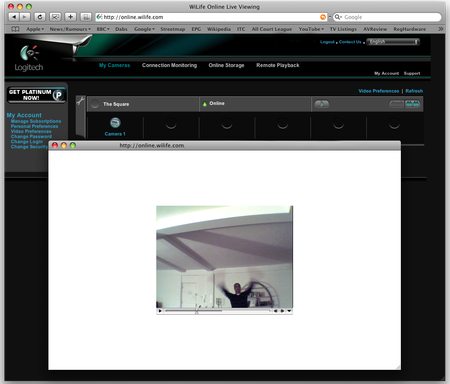 'Oh, I seem to be being burgled...'
To receive these alerts you'll need to register for an account on the WiLife website. That was straightforward, but the poor manual has a tendency to simply list features without explaining how to use them properly. That left us struggling to set up the email alerts option, and we eventually had to put a call in to Logitech for a bit of help.
Our other complaint is that the quality of the video image - 640x480 - wasn't particularly impressive, even taking into account the compression needed to send the video signal over a network.
Once you've registered for your online WiLife account you can also view the live feed from your DVS camera using a web browser running on any computer that has internet access, or even from a mobile phone or PDA that uses the Windows Mobile software. You can also register for a 'platinum' WiLife account, which costs an additional £49 per year. This activates additional features in the WiLife software, such as the ability to upload recorded clips onto a remote server.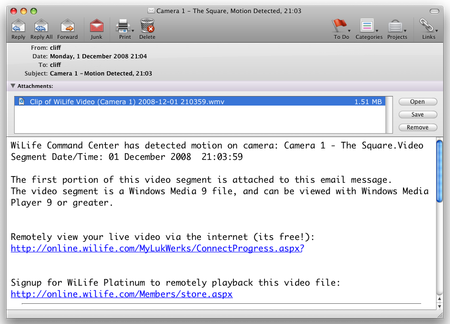 Email confirmation
Unfortunately, you still have to upload clips manually from the PC that's connected to the camera. It's a shame that you can't set the PC to automatically upload clips onto the remote server for safe-keeping, as that would be much more useful option.
Even so, the ability to send yourself email alerts and to monitor the camera online does mean that you can monitor your home or office from pretty much anywhere in the world. It also ensures that there's a way to save potentially vital video evidence if you are unlucky enough to experience a break-in.
Verdict
The DVS system is expensive, and certainly has some rough edges that need to be worked out, but it could still earn its keep by providing some extra peace of mind when you're away from home or the office.
More Gadget Reviews...
| | | | |
| --- | --- | --- | --- |
| Samsung ML-1630W | Sony HBH-IS800 | Zoombak Locator | 3M MPro110 |

Logitech Digital Video Security System
A promising attempt at producing a low-cost security system - but there are a few rough edges that need to be ironed out.
Price:
Master System (£249) Add-on cameras (£199) RRP