Road-legal 125mph prototype electric superbike demo'd
Range limited
'Leccy Tech An electric motorbike capable of a 125mph top speed has made its debut.
Designed and built by British engineers, the TTX01 was commissioned by the organisers of the world's first emissions-free grand Prix for motorbikes, the TTX GP, which will be held on the Isle of Man's TT circuit on 12 June 2009.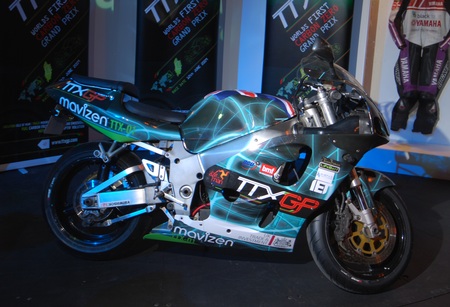 TTX GP's 'leccy racer: goes like the proverbial of a shovel
The bike shown last week at the NEC Bike Show in Birmingham is a road-legal prototype based on a Suzuki GSX750 frame. The production version is due in later next year and will come with a price tag of around £20,000.
The prototype is powered by two 11kg 32kW electric motors attached to the rear wheel and is said to make the 0-60 dash in 3.5 seconds though a full charge of its 75kg battery pack is currently only good for a 50-mile range if ridden cautiously. Cruise at 100mph and that distance drops to 30 miles.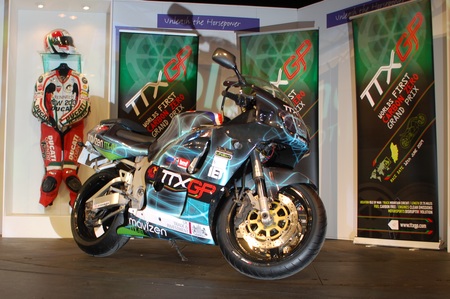 Ride cautiously to extend to the range
Plugged into a 13A socket, the battery pack can be fully charged in 1.5 hours, the makers claim. If you have 32A supply to hand, that time drops to 35 minutes.
The production version will presumably have a rather more ambitious range as well as a top speed of more than 150mph, a carbon composite chassis, hot-swappable battery packs, regenerative braking and possibly a driven front wheel. It'll need all those if it's to successfully command the 20 grand superbike price tag.
After completing tests in December, the TTX01 will begin a European tour through Portugal, France, Germany and Italy before coming back to the Isle of Man in time for the zero-emission TT race in June. Though over 50 teams are already registered to compete in the race the TTX01 will not be amongst the machines competing.
Sponsored: Minds Mastering Machines - Call for papers now open