Swiss Mindset reveals E-Motion sports EV
Not from the Italian side of Switzerland...
'Leccy Tech New pictures have emerged of Swiss car company Mindset's electric fast-back coupé type thing-a-me-jig, the E-Motion.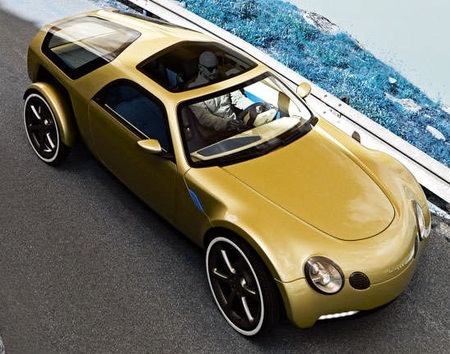 Mindset's E-Motion: not good for baldies...
An extended-range leccy vehicle like the Chevy Volt, the E-Motion will be driven by a 70kW electric motor and a lithium-ion battery pack that will provide a range of around 65 miles. Once the plug-in charge is exhausted, power will be supplied by a generator connected to a 630cc 24bhp V2 petrol engine – presumably sourced from a friendly motorcycle manufacturer. The E-Motion also has a regenerative braking system and solar panels in the roof what will, according to Mindset, recharge the battery in "a few days".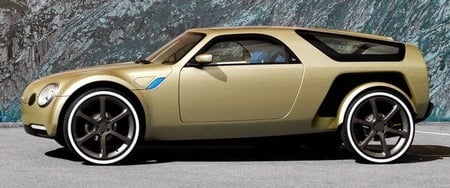 ...or design buffs, we'd suggest
Designed by former Volkswagen styling chief and Mindset company founder Murat Günak, the E-Motion sports some interesting styling cues, including retro circular headlights and 22in open wheels with ultra-low profile tyres.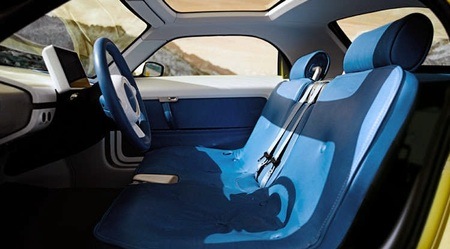 Interior needs ministry
It seems the gull-wing doors that appeared on the original prototype shown back in February have fallen by the wayside, though.
The car's Top speed is said to be 75mph and the 0-60 time in the order of six seconds. The key to getting such tarmac-melting performance from such a small power plant? The whole car only weighs 800kg, a figure achieved with the help of plastic body panels and a tubular aluminium chassis.
The E-Motion is due to into production next year and will sell for around the €50,000 mark ($63,440/£41,376) though there is no news about a right-hand drive version. Mindset is hoping to shift 10,000 units a year once production gets into full swing, and we wish it the best of luck because, frankly, that styling just doesn't do it for us.
Sponsored: Minds Mastering Machines - Call for papers now open