LG GP08NU10 slimline portable DVD writer
Ready for any disc format. Ready for your netbook
Windows users get SecurDisc, a tool built into the bundled Nero Express app that allows you to password-protect and digitally sign media. You can even add your own DRM, but only to PDFs.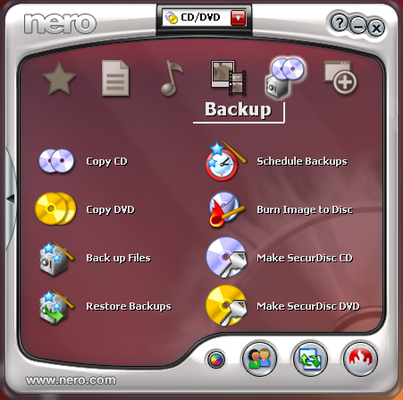 All your burning needs covered... unless you're a Mac or Linux user
We tried the password protection facility, and it kept Windows PC owners, Mac and Linux users away from our files, which are decrypted as they're copied from the disc to a Windows machine on which a suitable SecurDisc reader has been installed.
The version of the GP08 we looked at, the GP08NU10, doesn't support LightScribe labelling, though a second version, the GP08LU10, does. Both models support all the CD and DVD formats, including dual-layer media and DVD-RAM. The headline 8x speed applies to writing DVD±R and DVD+RW. Dual-layer recordable media rate 6x write performance, as does DVD-RW. DVD-Ram is 5x. CD media are written at 24x standard speed.
Claimed read speeds are 8x for DVD-Rom, video DVDs, single- and dual-layer DVD±R/RW. DVD-Ram and CDs are, again, 5x and 24x, respectively.
LG doesn't bundle any discs with the GP08, so we had no 'recommended' media to try. We used a variety of discs, from a range of suppliers, including big brands and no-namers. The read and write speeds for small data sets, across-the-disc writes and layer-spanning burns weren't bad, though consistently just below the claimed, 'write the data to the right part of the disc' peak speeds.
DVD+ discs worked generally better than DVD- media, but that's exactly what we'd expect.
Finally, while the drive worked perfectly when connected directly to a MacBook Air, we ran into trouble - dodgy burns, basically - when we connected it through a cheap, bus-powered USB hub.
Verdict
We've seen the GP08 available for as little as £50. If you only spent £200 on your netbook, that's no great loss. The drive's no speed demon, but that's not its raison d'etre. No, this drive's about portability, and with its low weight, compact size and bus power source, it has that in spades.
More Storage Kit...
| | | | |
| --- | --- | --- | --- |
| Pioneer DVR-116D | WD Caviar Black | Intel X-25M | LG GGW-H20L |
Sponsored: Minds Mastering Machines - Call for papers now open

LG GP08NU10 slimline portable DVD writer
Decent spec portable DVD writer that's well priced for netbook and MacBook Air buyers.