Big iron sellers grow shipments, shrink revenues
Server price-lash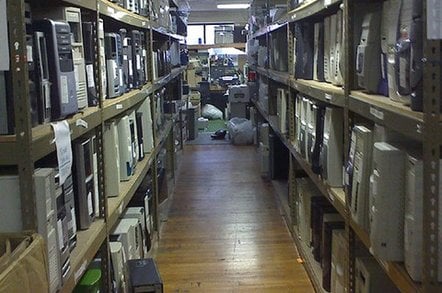 The box counters at Gartner have released their statistics for the worldwide server market in the third quarter of 2008, and the numbers are not good. But if there is an upside as we deal with the economic meltdown, the numbers could have been worse. And maybe they will be in 2009.
But let's deal with 2008. In the third quarter spanning July to September, Gartner reckons that server makers around the globe pumped out some 2.32 million machines, an increase of 4.4 per cent in unit shipments compared to the third quarter of 2007. But because x64 server makers cut prices to maintain sales volumes and then increased them and because customers shopping for big iron like RISC/Unix servers put their plans on hold as they awaited some sort of clarity in the economy, aggregate server revenues worldwide shrunk 5.4 per cent to $12.72bn.
And not one of the top tier server makers - IBM, Hewlett-Packard, Dell, Sun Microsystems, and Fujitsu - was able to grow sales in the quarter, and the Others category didn't do so hot either. In fact, the revenue market shares didn't change all that much in Q3 this year compared to last year. Basically, HP and IBM gained what Sun lost - and we're talking fractions of a point of market share.
"Server shipments grew in the third quarter, but the specter of constrained economies and tightened credit was felt in the revenue area," explained Jeffrey Hewitt, the research vice president at Gartner in charge of the server market modeling, in a statement accompanying Gartner's stats.
"What we've seen is larger system purchases in the Unix area put in check. At the same time x86 servers were able to maintain some shipment momentum, but lower overall average x86 server selling prices resulted in a drop in revenue in the quarter for this server type as well. Evidence of a challenged RISC-Itanium Unix server area appeared in a fall of 16.1 per cent in shipments and 10.8 per cent in revenue."
It is hard to say what part of market share matters more, revenue or shipments, but in the server space, mastery of either one can lead to what really matters: profits. No vendor has mastered both, although many have tried.
In terms of revenues in Q3, IBM once again came out on top, with $3.86bn in sales, down 4.2 per cent, a decline a little less than the overall market thanks in large part by growth in the sales of Power Systems AIX-i-Linux boxes and System z mainframes. IBM added a whopping 3/10ths of a point of share for all that effort. Hewlett-Packard took up its traditional second pole position in the Gartner rankings, with $3.79bn in sales, down 3.9 per cent and giving HP an extra 4/10ths of a percent of share. Dell fell more or less with the market, with sales down 5.2 per cent to $1.5bn, and yielding the same 11.8 per cent of the global server pie that Dell had a year ago.
Sun came in fourth when ranked by sales, with $1.16bn in boxes sold, a decline of 13.7 per cent from the year-ago quarter. The Fujitsu-Siemens partnership (soon to be just Fujitsu since the Japanese company is buying out its German partner) accounted for $616.7m in sales, down 7.3 per cent and obviously falling faster than the market at large. Other vendors - and there are dozens of tier three, white box, and boutique server makers still out there - accounted for $1.79bn in sales in the quarter, according to Gartner, giving them 14.1 per cent of the server revenue pie, a piece that shrank slightly less fast than the market at large.
Sponsored: Minds Mastering Machines - Call for papers now open