So what will happen to Sun?
The new Silicon Valley parlour game
Decline and fall
To have a better picture of Sun's decline consider this: On February 17th, 1995, when Ed Zander was president and Scott McNealy CEO, Sun's shares were $4.20 and the market capitalisation $9bn. On March 31 that year the shares rose to $4.34 and have never looked back, despite stock splits and reverse stock splits and the dot com boom and bust, until March 6th, when they slumped to $4.25 and the market capitalisation to $3.14bn. Now the company is worth even less.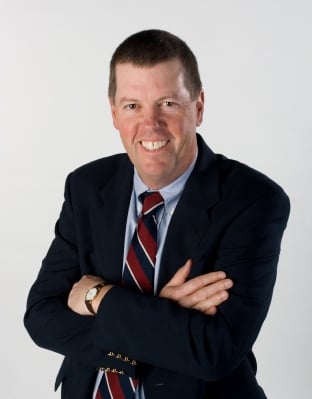 After thirteen years with Scott McNealy (right) as either CEO or chairman Sun's business has gone backwards. Its competitors, notably Dell, HP and IBM, have done much better - HP is capitalised at $82.39bn, IBM at $114.4bn and Dell at $23.56bn. Sun is a pale and sickly shadow of its former self.
Wall Street and stockholders want recovery, but big stockholders aren't rebelling. Sun's executives and McNealy were confirmed in their positions by the mass of compliant sheep that Sun's stockholders appear to be at the annual stockholders' meeting a couple of weeks ago. A slightly more active and assertive stakeholder has appeared in the form of Southeastern Asset Management, which now owns more than 20 per cent of the stock. Although it wants to generate more business value from Sun, it is working in a low profile way, not with an abrasive Carl Icaan 'corporate raider' style.
So Sun is in trouble, losing money, entering a recession, and has an activist shareholder potentially prodding the execs to do something. What could that something be?
It has $2.3bn in cash and could buy its own shares, go private and so avoid Wall Street and shareholders clamouring for shareholder value growth. But the shareholders would only get current values for their stock and its cash pile would disappear. It could soldier on, wait out the recession and look ahead to the surge in growth that it reckons is coming its way - the jam "will really, truly, actually, for certain" come tomorrow strategy. It could look to merge with or be taken over by a stronger company, with EMC, HP and IBM being speculated about, or it could sell off part of the family silver.
We can say that the main parts of Sun's business are StorageTek tape and disk storage, X86 servers and server-based storage, SPARC servers, software, and services. EMC is a storage and virtual server company and thinks Open Source is as attractive as giving your eyes an acid bath. It might be interested in the StorageTek tape business, giving it a stronger entry into mainframe shops. And it might be interested in the server/storage hybrid products such as the X4500 (Thumper). The servers though, both SPARC and X86? I can't see it. The open source software? Don't think so - selling it off to Red Hat or Novell might be possible. So an EMC takeover or merger would be followed by dismemberment of Sun.
Sponsored: Minds Mastering Machines - Call for papers now open