Motorola TLKR T7 two-way radio
Walkie-talkies for outdoor action types
Other functions include a room monitor, a silent setting for those Secret Squirrel missions and paint ball outings, a group mode and the ability to assign specific handsets with names so you can see whose handset you are talking to.
Motorola reckons the range of the T7 is "up to 10km", or 6.2 miles. Well, maybe on the Bonneville Salt Flats, where you have line of sight, no obstructions higher than an inch and the nearest radio transmitter is in the next state, but in a moderately built up suburban area we only managed about half a mile.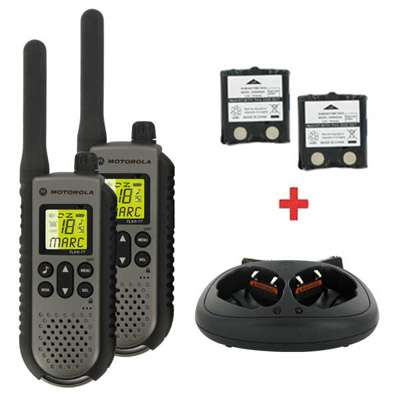 The package includes a twin charger tray for both handsets
While rambling in the Kielder Forest, things improved to a little under 1.5 miles, and while cycling on flat terrain in Cheshire we got about 2-2.5 miles. All in all we thought the effective range reasonable enough.
So long as we were within range sound quality proved remarkably crisp and clear, so a normal conversation could be had with little need to ask people to repeat what they'd said. The handset speakers have a good volume range too which could come in handy if they are being used in a noisy work environment.
Motorola say a full charge is good for round 16 hours use, while a couple of new AAAs should get you 24 hours. We charged our handsets fully before we started testing them and after what must have been a good 12 hours of use the charge indicators still showed about 30 per cent left so we'd say the manufacturer's numbers are about right.
The T7 comes in at £90, which is a fair chunk of change unless your lifestyle suggests you'll get regular use from it. For many, the £30-cheaper Motorola TLKR T5 may do just as well as the only basic differences are shorter range – 5km vs 10km – and the absence of a "roger" beep.
Verdict
The T7 is robust, usable and all together great for messing about with your chums in the great outdoors. We suspect they could prove tactically advantageous in large scale paintball combat too. The range was a little disappointing after the 10km claim on the box but other than that, there's not a lot to complain about.
More Gadgets...
| | | | |
| --- | --- | --- | --- |
| E-Book Readers | Polaroid PoGo | Olympus LS-10 | Roomba 560 |
Sponsored: Minds Mastering Machines - Call for papers now open

Motorola TLKR T7 two-way radio
Fun for the outdoor type and anyone keen to bring out their inner Action Man. Roger and out.