Motorola TLKR T7 two-way radio
Walkie-talkies for outdoor action types
Each handset has a stated radio transmit power of 500mW and, in the UK, uses the PMR446 frequency band which is par for the course for such devices.
The T7 comes with eight PMR channels along with 38 CTSS (Continuous Tone-Coded Squelch System) and 83 DCS (Digital-Coded Squelch) codes so being able to have an interference-free conversation should be possible in even the most crowded of radio environments. During our time with them interference was never an issue.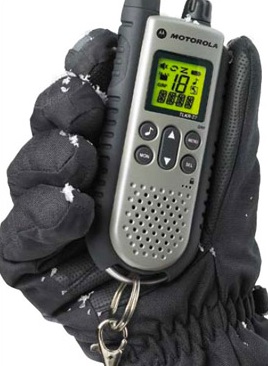 The lanyard loop at the bottom is an integral part of the handset
The T7 supports voice-operated transmitter (VOX) hands-free operation. A quick trip to Maplin was in order to get a couple of no-name 2.5mm jack headsets which, once plugged in, proved to work rather well.
The volume at which the VOX system picks up can be adjusted to one of five settings so you can set it to activate only when you speak loudly or to pick up general under-the-breath muttering and heavy breathing. After 60 seconds, a tone lets you know that VOX has been turned off so you have yell or whisper to reactivate.
We tested the hands-free capability on an indoor real- snow ski slope and found it worked well. As most of us can't ski for toffee, transmissions tended not to develop beyond a sequence of yells, cries and expletives, including one memorable howl of "I'm am trying to keep my bloody skis together... thump... ouch... [expletive deleted]".
A second test while out cycling was a rather more productive examination of the T7's efficiency allowing us to discuss which pub we were going to stop at without actually having to stop to discuss.
Sponsored: Minds Mastering Machines - Call for papers now open