HP, IBM - Stuck in the 'midrange' with you
Whatever that means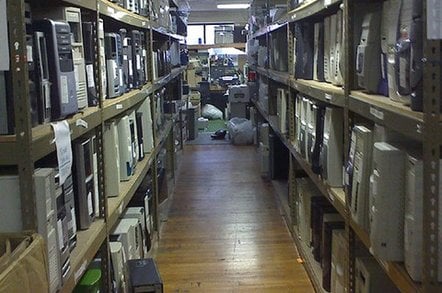 Analysis It is a story we hear again and again from the IT vendors: They are going to double down and make aggressive moves into the small and medium business space because the growth rates for IT spending are higher than they are among larger enterprises - at least when those businesses are all lumped together.
To many of us, who remember the minicomputer revolution and who know a thing or two about the midrange market, such statements seem a little odd.
The midrange systems and server market and its customer base has always been important. The midrange products from IBM, Hewlett-Packard, Digital, and many others humanized and simplified IT, so it could be consumed by companies that were not giants with big budgets for huge IT staffs and expensive hardware and software.
This created a feedback loop, whereby minicomputers and midrange systems eventually helped influence the evolution of big iron and spawned the dominant market of entry servers for small businesses - machinery that is in turn also deployed in droves by midrange and enterprise shops. It seems to me that in many ways the small business is akin to the midrange business of days gone by as far as IT is concerned - pushing the envelope on integration and low price.
The fact that companies no longer have only one server in a back room somewhere running their so-called back office applications - usually financial, manufacturing, and distribution applications - makes the differentiation between entry, midrange, and enterprise systems and the small, medium, and large customer sets a lot less of a one-to-one relationship than it has historically been.
Stuck in the midrange with you
Large enterprises deploy big iron like mainframes or giant RISC/Unix servers, but they also have data centers crammed with hundreds or thousands of entry rack or blade servers. Midrange shops have a mix of what we think of as traditional midrange gear and entry rack or blade gear.
The term midrange means a lot of different things to different people. Five years ago, HP was pumping $750 million into the SMB space to help its 210,000 global partners and provided a rare glimpse into the S and M parts of the SMB market. HP said that there were 21 million SMBs in the Americas and 79 million globally and that the aggregate budget of these SMB companies added up to $531 billion in 2003
HP projected that IT spending among SMBs would grow at 12 per cent compounded annually to hit $744bn by 2007. The midrange part of the SMB space comprised 500,000 to 600,000 companies who have between 100 and 1,000 employees. When adjusted for employee headcount, SMBs spend more money than larger enterprises on IT and they generally do not have sophisticated IT staffs.
Five years on. To help me figure out what that midrange means in 2008, I went to the two big players in this space, each equipped with huge reseller channels that span the globe. That would be IBM and HP, of course. And specifically, I spoke to Mark Shearer, vice president of marketing and offerings for IBM's Business Systems division within the Systems Division, and Urs Renggli, director of small and midmarket offerings for HP's Technology Solutions Group.
Renggli starts off by saying that SMB shops are treated as one category, and that is because they sometimes share attributes when you talk about how they consume and use IT. For instance, both small and medium shops have limited IT organizations, and their IT staffs are usually generalists, not specialists, when it comes to IT. They function as programmers and system administrators and security officers and database administrators, and they want machines and software tools that let them do all of those different tasks.
The planning, management, and deployment of technologies among SMB shops are different than at large companies, which have a lot more rules and rigor. HP believes that looking at IT shop headcount and the level of expertise is a lot better an indicator of whether an IT organization is a small, midrange, or enterprise shop - a lot better, says Renggli, than looking at whether a company has from one to 99 employees (that would be small) or from 100 to 1,000 (that would be midrange).
Sponsored: Minds Mastering Machines - Call for papers now open