Honeywell's Kitchen Computer remembered
The $62,550 machine no one bought
Instant Holiday Promotion
Honeywell had pitched the machines for industry, mathematics, medical, scientific research, and other advanced uses – but apparently Nieman Marcus thought they could possibly have a place in the kitchen. What was billed as a "writing table" became a kitchen cutting-board and voilà -- instant holiday promotion!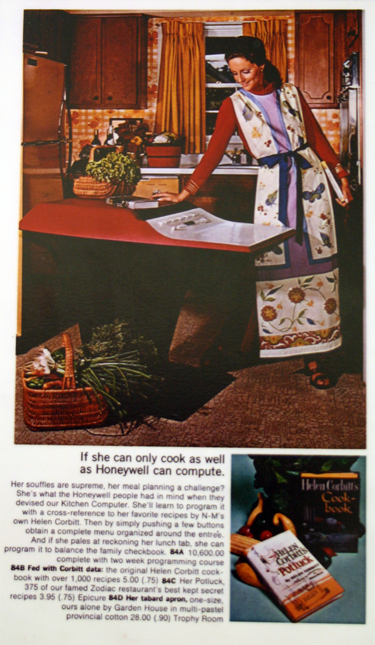 The advertisement reads:
If she can only cook as well as Honeywell can compute

"Her soufflés are supreme, her meal planning a challenge? She's what the Honeywell people had in mind when they devised our Kitchen Computer. She'll learn to program it with a cross-reference to her favorite recipes by N-M's own Helen Corbitt. Then by simply pushing a few buttons obtain a complete menu organized around the entrée. And if she pales at reckoning her lunch tabs, she can program it to balance the family checkbook.
In 1952, Nieman Marcus introduced a tradition of listing extravagant gifts on its Christmas catalog. Since then, it's advertised obnoxious luxuries like a toy tiger covered in diamonds, a golden toilet seat, and a robe worn by a Chinese emperor in 1770.
Sponsored: Minds Mastering Machines - Call for papers now open