Infocus X10 projector
Very high standard entry-level home cinema rig
The X10 uses the DarkChip 1, Texas Instruments' entry-level 1080p DLP chip and as such doesn't offer the deep blacks available on higher-priced models. Thankfully, the X10's secret weapon, its manual iris adjustment, will clear the mist from your outer-space battles – albeit it the expense of some brightness.
Fans of automatic iris control will miss the increased dynamic contrast that could have been achieved, but the manual option gives you greater control over the adjustment and doesn't suffer from the conspicuous and often distracting brightening and darkening of the image which dissuades many of us from using dynamic iris options.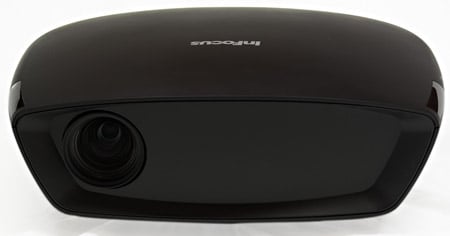 With a little bit of adjustment, you can get some really impressive images
With a little bit of adjustment, you can get some really impressive images from the X10. The picture is razor sharp, showing that InFocus hasn't skimped on the quality of the optics in this low-cost projector. If we had to quibble, we'd say that it can be a little tricky achieving a decent black level while maintaining good shadow detail. Thankfully, the X10 supports professional ISF calibration, so if you want to get the very best from your set-up you can have a certified technician pop round and calibrate it for you – although this will of course cost you extra.
The so-called "Rainbow Effect" is one of the most often criticised features of DLP technology, and unfortunately, those of us who are susceptible to it may well find this problem distracting on the X10. While not always visible, it can become noticeable in very high contrast scenes – not so great for Star Wars fans, but pretty much imperceptible if you're watching material such as the BBC's Planet Earth, which incidentally looks breath-taking on this projector.
Verdict
The X10 may be the lowest priced example of a rather large range of 1080p projectors from Infocus, but it's exceptionally good. Setting the standard for entry-level 1080p projection, it's a worthwhile step up from a decent 720p projector if your screen size and viewing distances are appropriate.
More TVs and Projectors...
| | | | |
| --- | --- | --- | --- |
| BenQ W500 | Philips Aurea II | Samsung SP-A400 | Panasonic Kuro |
Sponsored: Minds Mastering Machines - Call for papers now open

Infocus X10 projector
Setting a very high standard for entry-level full-HD home cinema projection, the X10 is superbly sharp and impressive beyond its specification.