MoD kit chief: Blighty unsure of supersonic stealth jumpjet
'Does it do what it says on the tin?'
The head equipment purchaser at the UK's ministry of defence (MoD) has implied that Britain maintains an open mind on whether it will purchase the new F-35B supersonic stealth jumpjet to operate from its new aircraft carriers. General Sir Kevin O'Donoghue, Chief of Defence Materiel, seemed to confirm that there was a backup plan in which the F-35C catapult launch variant might be used instead.
At present the MoD plans to build the carriers without catapults or arrester wires, meaning that only helicopters and Short Takeoff, Vertical Landing (STOVL) aircraft - jumpjets - will be able to fly from them. Thus the UK has always planned to buy the B version of the F-35 Joint Strike Fighter (aka "Lightning II"), which features a vertical-thrust fan mounted centrally and a cunning swivelling nozzle allowing its jet exhaust to point downwards.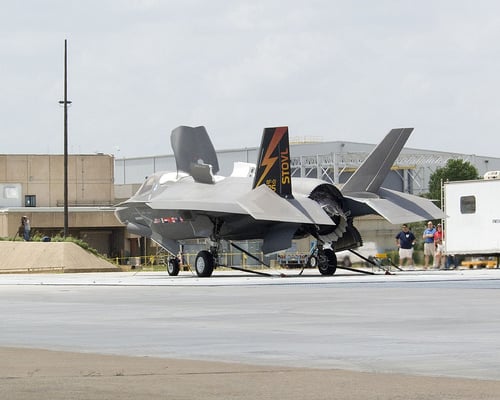 Possibly not the future Royal Navy fighter after all.
But the F-35B has long been dogged by weight issues, and though the prototype aircraft has now flown, engine problems have meant that so far it has operated purely as a normal runway aeroplane. Only after fitting with a new engine will the F-35B be able to carry out vertical-thrust flight tests, probably starting early next year.
The Royal Navy is particularly worried about issues of weight and performance in a vertical landing, as the service intends to use the F-35B as a carrier fighter rather than mainly as a strike plane like most of the other customers. A carrier fighter needs to be able to take off fully armed, fly a patrol and then land back on the ship without having to dump its missiles beforehand.
The late, great Sea Harrier fighter could just about manage this, but only in cold weather (cold air lets jet engines deliver more thrust). In warm climates, to make a safe deck landing, the Sea Harrier would normally need to dump weapons - which would be unacceptably expensive. Hence it was binned to much regret some years ago.
US programme chiefs are adamant that the F-35B will be able to meet the UK's weapons bring-back requirement, but there is plainly some doubt in Whitehall. The UK is carrying out research into a "Shipboard Rolling Vertical Landing" (SRVL) where jets would still be moving forward as they landed, but not fast enough to necessitate arrester wires. This would add some lift from the wings, allowing a safe landing with more weight.
The issue is plainly an important one for the UK, which is now committed to building new carriers and needs planes which can operate from them effectively. This is what led MPs to question General O'Donoghue on the matter at a meeting of the Parliamentary Defence Committee on Tuesday.
Asked how many F-35Bs the UK might buy, the general said:
"Well, at the moment we're looking at buying three, which are the operational test and evaluation aircraft."
In other words, the UK will use the initial three F-35Bs to find out if they really can be the carrier fighter the Royal Navy needs. Sir Kevin plainly doesn't regard this as a foregone conclusion. Asked how many jumpjets the UK might buy after the tests, he said:
"Why don't we wait and see what the operational test and evaluation comes out with ... Does it do what it says on the tin?"
Some have suggested that if the F-35 couldn't meet the UK carrier requirement, a "marinised" carrier version of the Eurofighter might be used instead. This was raised in response to the General's evident uncertainty regarding the F-35B.
"It's not being looked at, no," replied Sir Kevin.
The F-35C carrier variant, intended for catapult launch and arrested landing by the US Navy, then came up. The F-35C, not requiring the heavy vertical-thrust equipment of the VSTOL jumpjet, will perform better. It will also be significantly cheaper - perhaps enough to offset much of the cost of providing the carriers with catapults and arrester wires. Much more money could then be saved by purchasing existing, highly capable carrier radar planes rather than an exotic rotary-wing option such as the TOSS version of the Osprey tiltrotor.
The carriers "could be fitted for the carrier variant," General O'Donoghue confirmed. "If STOVL went, then carrier variant must be an option."
This seems to confirm rumours that the MoD has a backup plan to equip the carriers with catapults and arrester wires early on in their lives, or even during building. This isn't an entirely simple matter. Though space has been included in the designs for the necessary machinery under the flight deck, current naval catapults require steam to operate.
The UK carriers, however, are to be propelled by gas turbines rather than nuclear reactors, so as to save money. But a gas ship, unlike a nuclear one, has no ready source of steam.
Word has it that the UK would, if forced to it, equip the carriers with a separate steam boiler plant for the catapults as well as the gas-turbine propulsion. This wouldn't be cheap: a similar plan in France put the cost of a steam'n'gas double power solution around 90 per cent of what a nuclear ship would cost - without the nuke ship's advantages of endurance and extra hangar space. (Fossil-fuel plants need a lot of thick funnel and intake trunks running up and down through the hangar deck.)
But a catapult carrier would offer a much more capable air group, which also be much cheaper.
From the MoD's point of view, however, this plan is not desirable as more money would have to be spent earlier on - on the ships, which have now been ordered - and the savings would only come later. The MoD is desperate for savings right now, and doesn't really mind if this leads to more cost down the road - as jumpjet carriers would do, needing pricey STOVL jumpjets and custom-made rotary radar birds.
General O'Donoghue makes it quite plain that the only way the UK will go for the cheaper and more powerful catapult carriers is if the F-35B can't do what it says on the tin.
Those who want to see the Royal Navy with the best available carriers and jets - and paying less to get them, to boot - might justifiably hope that the miracle jumpjet's trials next year are a failure. ®
Sponsored: Are DLP and DTP still an issue?