Samsung Q1 music and video player
Sleek, svelte and very nicely priced
Of more use are the 13 pre-set DNSe 3.0 (Digital Natural Sound engine) equaliser settings that include Café and Church alongside the more usual Jazz, Rock, Pop etc. If you like to tinker, you can also set and save three personal sound profiles. If you want to spend your time listening to your music rather than messing with menus, you can set the thing to Auto and have done.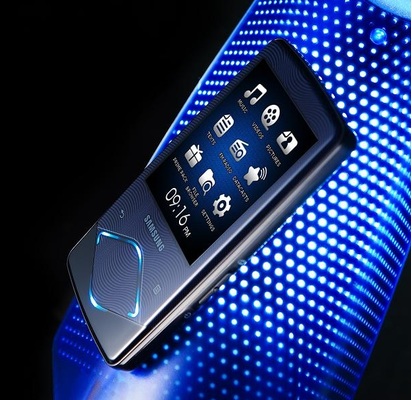 Sleek and svelte
Switching Street Mode and Upscaler off and setting the DNSe to Auto, we ran through several of our current favourite albums. At the end of it all, we don't have a bad word to say about the Q1's music reproduction. Bass was solid, stereo separation excellent, and the sense of space and definition without fault. OK, there was no way we could find of making the gaps between the tracks in Otello vanish, but if you want gapless album playback you've probably already bought an iPod.
Video playback is above par for what is essentially a music-orientated player with a 320 x 240 screen. We watched an hour-long BBC Four documentary about Russian conductor Valery Gergiev – downloaded as a DRM-protected WMV file from iPlayer – without any problems. Video playback was smooth, colourful and well defined, while the sound – which included large chunks of Stravinsky's The Rite of Spring - was full and balanced.
Samsung claims a full charge is good for 30 hours of music playback or four of video. We found both those numbers a little optimistic, only managing 26 and three-and-a-quarter, respectively.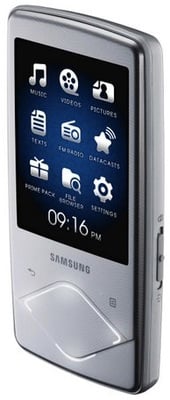 Nicely priced
Since Samsung doesn't issue RRP's we took a quick look on the net and found the 4GB player for a reasonable £50, the 8GB for £70 and the 16GB for £100. Good value in a world were Apple wants £109 for an 8GB iPod Nano.
Verdict
The Q1 continues the Samsung tradition of turning out MP3 players that produce a really top-notch sound. This really is one of the best-sounding players about, at least once you've bought a decent pair of earphones. Unfortunately, far too much attention has been given to appearance and aesthetics and not enough to the mundane matter of functionality. The Q1 looks lovely but can be a bit of a pain to use on a day-to-day basis.
More MP3 players...
| | | | |
| --- | --- | --- | --- |
| Sony Walkman E | iPod Nano | Creative Zen Mosaic | Sansa Clip |
Sponsored: Minds Mastering Machines - Call for papers now open

Samsung Q1 music and video player
A well-featured player with superb sound that's a triumph of style over usability. If you're a Mac or Linux user, make sure to keep the receipt.
Price:
£50 (4GB) £70 (8GB) £100 (16GB) RRP