Samsung Q1 music and video player
Sleek, svelte and very nicely priced
While audio format support is comprehensive, everything is not quite sweetness and light. To start with when you try to drag and drop Flac files, Windows Explorer tells you the player won't support them. Assuming you ignore this and transfer the files anyway, you will then search in vain for them in the main menu folders as they can only be accessed via the file browser. So if you fill your Q1 with Flac files you can kiss good buy to searching via artist, album, genre and the like.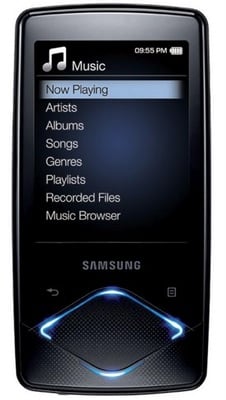 Some good music navigation options... unless you're a Flac fancier
This lapse is all the more a shame because the Q1 has some rather nice music library features, including the ability to set up playlists on the go and a handy little view that lets you scroll left and right to other albums by the same artist when you are in the album/track view, the artwork for the other albums showing up in miniature at the top of the screen.
EmoDio apart, Mac and Linux users have reason to be a little circumspect about the Q1. For starters, our Q1 refused to show up as a mass-storage device on either a MacBook Pro or a laptop running Ubuntu 8.10. A thorough search through the the Q1's menus and the user manual for some sort of MTP/MSC switch came up empty handed and so not surprisingly we had no luck getting the Linux laptop to recognise the player as an MTP device using Rhythmbox, even though a 30GB iPod and a Sansa Fuze that we had lying about the office both showed up without a hitch.
This all makes the Q1 about as much use as a one-legged man in an arse-kicking contest to Mac and Linux users, and with Linux netbooks breeding like rabbits and Apple's laptop market share rising so fast it's making a sort of whooshing noise, that's a pretty major issue.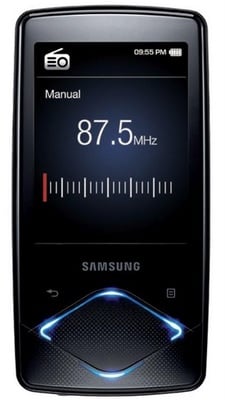 There's a decent RDS-capable FM radio on board
Thankfully, once you've loaded up some music, got to grips with the controls and replaced the Poundstretcher-class earphones, the Q1 is a fine-sounding player.
You get more sound modification technology than you can shake a stick at, including Street Mode – in effect a bass boost for use on the Underground and other loud urban environments - and Audio Upscaler, which is supposed to replace the higher frequencies that get chucked in the bin when audio files are compressed. It should make the sound a little brighter, though we were never able to tell if it was turned off or on without looking.
Sponsored: Minds Mastering Machines - Call for papers now open