Samsung Q1 music and video player
Sleek, svelte and very nicely priced
In general, we found it far too easy to select up/down/left/right when we meant to select action, and vice-versa, especially when navigating the smaller context-menus. Giving the navigation pad some degree of movement - or even some sort of haptic feedback - would make the Q1 an easier and more pleasant device to use.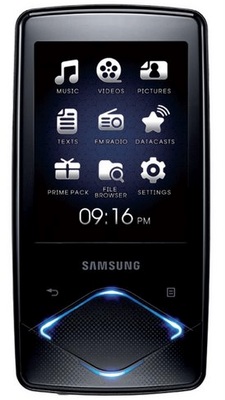 The familiar Samsung main menu layout
Above the left and right points of the diamond are controls to move back to the previous screen and to open up the relevant contextual menu. Again, these controls are solid and offer no tactile feedback whatsoever. And for some reason they're not backlit like the surround of the diamond, so tapping them is a curiously unsatisfying and uncertain undertaking.
When you actually touch the right control the Q1 responds quickly. Scanning through media is particularly effective, the scan speed ramping up quickly smoothly. But though the Q1 may look great, we prefer the controls on the latest Sony Walkman devices or the Sansa Fuze, all of which actually move when used.
The Q1 uses the now familiar Samsung menu layout, with nine icons giving access to your music, videos, pictures, text files, the RDS FM radio, datacasts, file browser, device settings and Prime Pack, the latter including a voice-recording facility, three games and colour maps of all the world's major underground railway networks.
Of all the major manufacturers, Samsung has long been among the more generous with out-of-the-box audio codec support. The Q1 is no exception, supporting MP3, Ogg Vorbis, Flac and WMA audio codecs. The Q1 can also handle TXT, JPEG, PNG, BMP and GIF files.
Video playback is limited to WMV9 and .SVI MPEG-4 files, the latter being nothing more than an AVI container modified by Samsung to "create" a proprietary video format that has no earthly benefit beyond ensuring that people have to use Samsung's bundled software to convert their videos.
Thankfully, the bundled Windows-only EmoDio media management package is a decent enough transcoding tool, and Samsung, unlike Sony, doesn't demand you pay extra for the benefit of using it as such.
Sponsored: Minds Mastering Machines - Call for papers now open