HP HDX16-1000 16in multimedia laptop
Music and movie heavyweight
Taking a trip round the edges of the HDX-16 reveals an excellent selection of ports. In addition to the five-in-one memory card slot, there are not only four USB 2.0 ports and a single, four-pin Firewire, but also eSATA for more storage, HDMI and VGA for external screens, and an antenna connection for the integrated TV tuner. Add-in cards can be accommodated by the ExpressCard 54 slot. Networking options include Gigabit Ethernet and 802.11g Wi-Fi – Bluetooth is built in, too.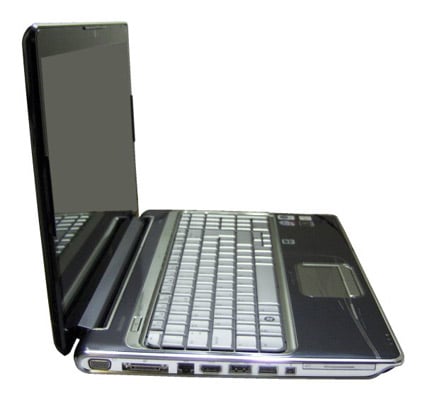 A slot on the left-hand side holds a mini remote control
An intriguing slot on the left side of the laptop is home to a custom-designed mini-remote, which works with both Vista Home Premium 64's Media Center and HP's own MediaSmart software. There's a second, more normal-sized remote for using at home, too. Quite why you need MediaSmart, which doesn't include a TV guide and is nowhere near as intuitive to use as Media Center, isn't clear, but it's there if you want to try it.
Inside, the machine comes with a 2.26GHz Core 2 Duo P8400 processor - not one of Intel's top performers, alas - and a healthy 4GB of main memory. It couples this with 512MB of dedicated graphics memory for use by the Nvidia GeForce 9600M GT graphics chip, though the GPU can also grab up an extra 1.5GB from the main memory bank.
The Nvidia chip should provide enough kick for some gaming, as well as for media playback, but even so, Windows Vista Home Premium - pre-installed here in its 64-bit form - didn't feel snappy. Still, the use of the 64-bit Vista means that, for once, it can see all of that 4GB of memory.
Storage comprises a 320GB 5400rpm Fujitsu SATA hard drive and a Blu-Ray reader, which doubles as a multi-format dual-layer DVD rewriter and includes LightScribe for writing black and white disc labels, albeit rather slowly. Since the screen resolution matches that of top-of-the-line HD content, Blu-ray playback looks great and, thanks to that Nvidia GPU, was judder free.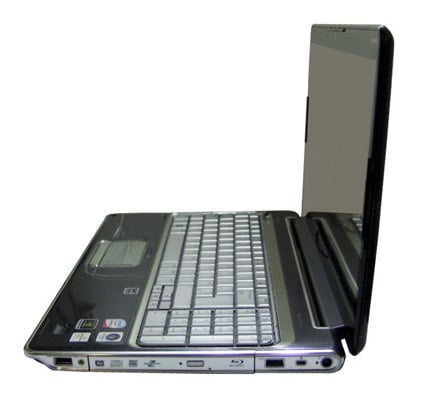 Plenty of ports and a Blu-ray drive
The Freeview-friendly DVB-T TV tuner worked well too, picking up more than 70 channels. An aerial is supplied, but you'll be a lot better off with a feed from a roof aerial - no big problem since a machine of this size is going to spend more time on a desk than on the move.
Sponsored: Minds Mastering Machines - Call for papers now open