NASA's Juno set for Jupiter jaunt
2011 mission to probe giant's 'formation, evolution and structure'
NASA has confirmed a 2011 launch date for its Jupiter-bound Juno spacecraft, equipped to probe the planet's "formation, evolution and structure".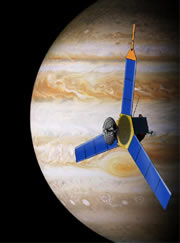 Scott Bolton, Juno principal investigator from the Southwest Research Institute, explained: "Jupiter is the archetype of giant planets in our solar system and formed very early, capturing most of the material left after the sun formed. Unlike Earth, Jupiter's giant mass allowed it to hold onto its original composition, providing us with a way of tracing our solar system's history."
NASA elaborates: "Understanding the formation of Jupiter is essential to understanding the processes that led to the development of the rest of our solar system and what the conditions were that led to Earth and humankind. Similar to the sun, Jupiter is composed mostly of hydrogen and helium. A small percentage of the planet is composed of heavier elements. However, Jupiter has a larger percentage of these heavier elements than the Sun."
Scientists are particularly interested in the possibility that hydrogen deep in Jupiter's atmosphere may be squeezed into an electrically-conducting metallic form, which is "believed to be the source of the planet's intense magnetic field".
Professor Dave Stevenson, co-investigator at the California Institute of Technology, said: "Juno's extraordinarily accurate determination of the gravity and magnetic fields of Jupiter will enable us to understand what is going on deep down in the planet. It will allow us to take a giant step forward in our understanding on how giant planets form and the role that plays in putting the rest of the solar system together."
The mission will also examine Jupiter's weather. NASA explains: "Juno instruments will measure the abundance of oxygen on the planet and monitor localized variations in concentrations of water and ammonia caused by meteorological factors. Juno will also investigate the convection that drives general circulation patterns in Jupiter's atmosphere."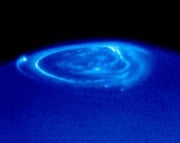 Juno's extensive list of tasks further involves eyeballing Jupiter's aurora borealis (see Hubble UV pic, left), and it carries a colour camera to "give the public a first look at Jupiter's poles".
Juno is scheduled to arrive at Jupiter in 2016, when it will make 32 "innovative" elliptical orbits over roughly a year "skimming about 3,000 miles over the planet's cloud tops". The spacecraft is solar-powered, and since it'll be operating at over 400 million miles from the Sun, is designed to be "extremely energy efficient".
In case you're wondering, the name Juno is not a traditional tenuous NASA acronym (see Messenger)*. Professor Toby Owen, co-investigator at the University of Hawaii, enlightened: "In Greek and Roman mythology, Jupiter's wife Juno peered through Jupiter's veil of clouds to watch over her husband's mischief. Our Juno looks through Jupiter's clouds to see what the planet is up to, not seeking signs of misbehavior, but searching for whispers of water, the ultimate essence of life."
Juno is the second spacecraft of NASA's New Frontiers Program, the first being the Pluto New Horizons mission, "launched in January 2006 and scheduled to reach Pluto's moon Charon in 2015".
NASA has the main Juno website here, more on the science objectives here, and an instrument overview here. There's a graphic of the spacecraft and its instruments here. ®
Bootnote
*Star Wars fans rejoice: One of Juno's instruments is the Jovian Energetic-particle Detector Instrument or, yes indeed, JEDI.
Sponsored: Minds Mastering Machines - Call for papers now open