Vuzix iWear AV230 XL video glasses
Give your iPod or games console specs appeal
The quality of the screen is still pretty good, but it feels more like you're watching an old CRT display, rather than a shiny new plasma. Because of the sheer size of what you're viewing, you very quickly start to notice issues with quality in the encoding. Anyone who has ever watched a DVD rip on a data projector, will know what we're talking about.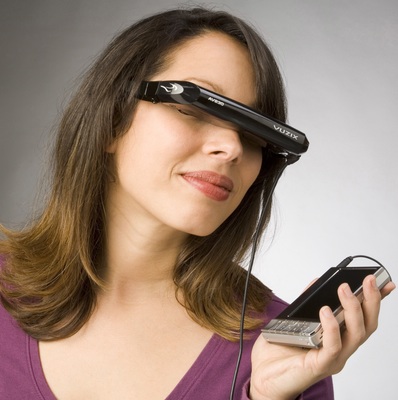 The Nana Mouskouri revival starts here
As an optional extra, you can buy a rubber eye shield, that blocks out all external light for that fully immersed experience. Without this, it's quite possible to have a notebook on your lap and peer down and type, so you can happily watch a film and use instant messaging clients at the same time.
Looking up isn't quite as easy, which can be annoying if, say, you're on a train and you want to check what station is coming up next – you have no choice but to dislodge the glasses, which can be annoying if you have found that comfort sweet spot.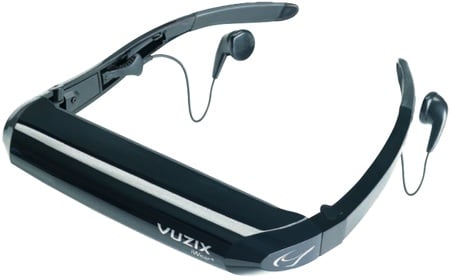 The earbuds can be removed
Using these at the gym was made impractical, partly due to this accentuated movement, but also due to them slowly moving down your nose during exercise. We also wouldn't advise their use for driving, walking or operating heavy machinery.
Verdict
It's easy to brush these off as a gimmick, but for £130 they offer a lot of value that any commuter or flat-sharer will enjoy. The low resolution isn't as detrimental as you might think, but you can always spring for one of the better models if you want a higher one. The distortion and composite-only input is disappointing, but the Vuzix AV230 XL set is well worthy of consideration for your Christmas stocking.

Vuzix iWear AV230 XL video glasses
Personal viewing that puts a big - but low-res - virtual telly before your eyes without bothering any one else.