Vuzix iWear AV230 XL video glasses
Give your iPod or games console specs appeal
Earphones are included, but they aren't anything special. Each bud plugs into the arms of the glasses using a two-pin connector, so removing them is simple, if you find you don't use them. This is where our first complaint lies: the supplied N95 cable uses the phone's 3.5mm jack, so you have no choice but to use the supplied earphones. Vuzix should have built a 3.5mm jack into the AV230 XL's controller box.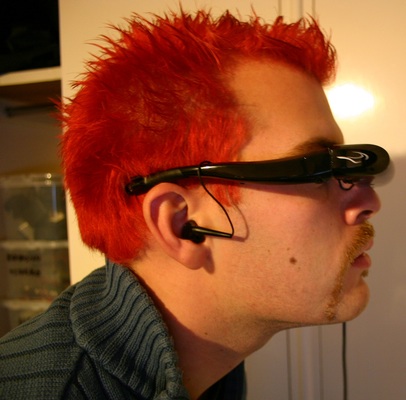 Colour bleed can be a problem...
You'd maybe expect such a cool device to be more complex, but once you've plugged the cables in and adjusted the focus to your eyes - which you only need to do once - you're ready to start enjoying video. The arms are on double hinges allowing for up to 15° of movement up and down to help you find the most comfortable position.
That's really where these video specs shine – comfort. They are perhaps a little odd to get used to, especially if you're not used to wearing glasses, but it's more the comfort of the rest of your body. You're not being forced to hold a 2.5in screen to your face, or stare down at an awkward angle to your netbook screen and give yourself neck ache – you position yourself where you want and the screen is always there for you. Inside the home, this works very well for watching videos in bed, or if you're a console gamer, you can be lying down on the sofa giving your back plenty of support.
Looking through the glasses is surprisingly natural. Rather than completely engulfing your vision, it has the effect of a physical TV floating at what appears to be a couple of metres in front of you. It really is like a portable TV screen – albeit at a lower resolution.
However, perhaps due to the OLED technology in use, a slight movement of your head gave a certain amount of multi-coloured distortion that was really noticeable, even for the slightest of movements. After a while, you do mentally block it out, but don't expect perfection.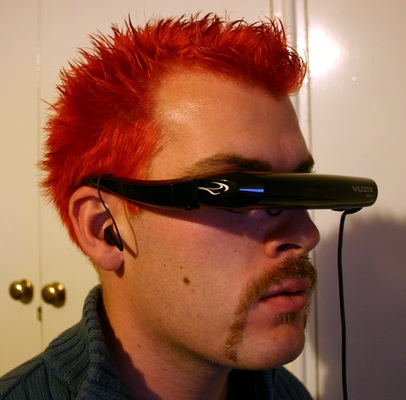 Watchoo lookin' at?
Speaking of movement, when you look at a normal TV screen, you naturally move your head around, or even tilt it and your brain will compensate well. That's why we can watch TV at 90° or even 180°. With the Vuzix eye wear, it's a different experienced that takes a little mental adjustment, as every time you move your head it moves with it - of course - even though you naturally expect it to stay in the same place.
Sponsored: Minds Mastering Machines - Call for papers now open