Shuttle SG45H7
Fly me to the moon
Throughout our testing, we found the Intel chipset and graphics delivered the goods in almost every department, and there is no doubt in our mind that the GMA X4500HD is the best Intel graphics core by a considerable margin. During Blu-ray playback, our E8500 processor ran at a steady 20 per cent load which is low. However, when we installed an AMD ATI Radeon HD 4550 graphics card the CPU load dropped to five per cent.
Power Draw Results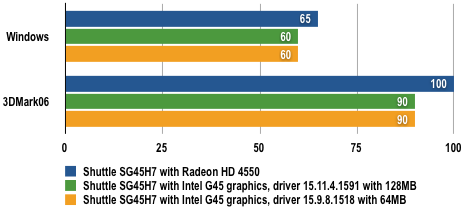 Power Draw in Watts (W)
We have a fundamental issue with the G45 chipset - and also with Nvidia's GeForce 9300, which has very similar performance. Although graphics performance is considerably improved, it still isn't up to the job of playing a game that is more advanced than Sims 2 as we found when we played Far Cry 2. On the default settings of 1440 x 900, DX10 and High Quality, the frame rate was an appalling 3f/s - although, at 16f/s, the Radeon HD 4550 wasn't much better.
Lowering the resolution to 1024 x 768 raised the frame rate to 4f/s - 21f/s with the Radeon - and switching to DirectX 9 settings raised the frame rate to 8f/s and 26f/s, respectively.
'But hang on,' we hear you cry, 'we Blu-ray aficionados don't care about games.'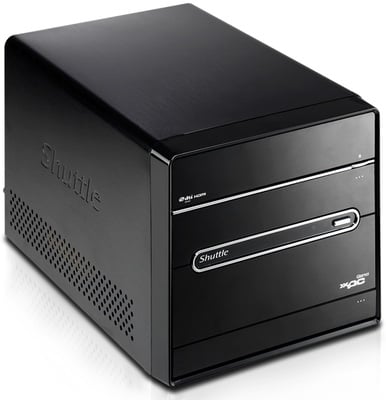 Media centre perfection?
That's fair comment, but you're paying a steep list price of £329 for the SG45H7 and for that sort of money we expect it to be capable of every task under the sun. We found the Shuttle on sale online for a little as £307, but that still seems like a high price to pay for a system that requires a CPU, memory, hard drive, DVD drive and operating system.
The problem is that you can buy a Radeon HD 4550 or 4650 for a mere £45. Either of these will transform any media centre PC, so while we admire the Intel G45 graphics in this model we have no interest in paying for them.
Verdict
Intel's GMA X4500HD graphics core delivers impressive multimedia playback, but Shuttle is asking far too much for this barebones.
Sponsored: Minds Mastering Machines - Call for papers now open

Shuttle SG45H7
Nice box, nice technology. Shame about the price.