The Netbook Newbie's Guide to Linux
The Big Easy
The structure of simpleui.rc isn't too hard to get to grips with, even if you're not familiar with XML. The body of the file defines two different kinds of objects: simplecat, which is the broad grouping into application types like 'Work', 'Play', and so on; and parcel, which defines how to invoke a particular application, what icon should represent it on the desktop and what name to give the icon. The naming is done in over a dozen different languages, but for our present purposes we'll chauvinistically ignore everything except the line where lang="en".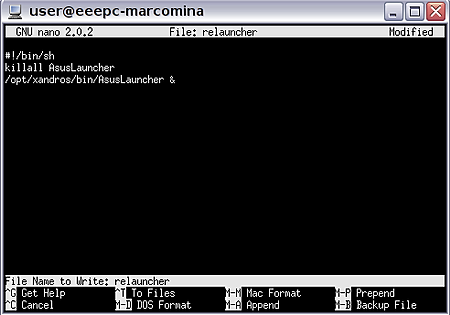 Entering the Relauncher script in nano
Notice the placing of the angle brackets, and in particular the fact that each parcel definition is closed with a </parcel> flag.
One of the things I use a netbook for is movie script writing. No, you don't need a $500 software application to do this right. There's a wonderful free website called Zhura.com I use all the time, so I want to make it directly accessible from my Eee PC Easy Desktop.
'Copy and paste' was invented for exercises like this. So I pick an existing parcel definition that's close to what I need - iGoogle will do - copy the whole thing from <parcel... down to and including the </parcel> closer, and paste that in again at the end of the file just before the </simpleui> which signs off the whole Simple UI definition.
Not So Simple
The simpleui.rc file in /opt/Xandros/share/AsusLauncher is a "master configuration file". Normally, you'd leave it alone, instead editing a local copy of the file kept elsewhere - typically in a hidden directory under the home directory. A well-behaved application would know to look there first, only referring to the master configuration file if it couldn't find the user copy.
Unfortunately, Asus has been moving the location of this local copy around during recent software updates, so to keep things simple I'm sticking with the master file.
It's for the sake of simplicity, too, that I'm making these changes to the AsusLauncher by hand, rather than availing myself of the ready-made software solutions that Eee PC fans have cooked up. I'm certainly not knocking these useful contributions, but they tend to conceal rather than reveal the underlying principles. Once you understand these principles, by all means go ahead with offerings like these if you think they'll help.
Sponsored: Minds Mastering Machines - Call for papers now open
Next page:
Easy (?) Mode Icons

A manufacturer who has decided to lock down an interface isn't going to worry about how difficult it might be for a user to make modifications. That seems to be the way with Asus' Easy Mode - particularly when it comes to the icons.

Each single icon you see in Easy Mode actually needs a full set of five separate icons in order to work properly. So if you're going to add a new icon of your own, as I did with Zhura rather than appropriate an existing icon - which, by the way, doesn't always work either - you're going to have a merry time grafting away inside a graphics app like The Gimp before you get a result. Yes, there are some utilities out there specially designed to help with this problem, but I wanted to make sure I understood the fundamentals first.

The Easy Mode screenshot I've included here is actually a bit of a cheat: when I took it I still hadn't mastered the whole elaborate process of icon creation. I haven't Photoshopped anything, but if you were able to slide the mouse cursor over the Zhura icon you'd see it vanish, because the "highlight" aspect of the icon wasn't working properly at the time I took the screenshot.

I've fixed the problem now, so I don't feel too bad about publishing this. I'm not going to take up space here to tell you how to do it, but I will point you in the direction of these six webpages (!) that walk you through the whole rigmarole.