The Netbook Newbie's Guide to Linux
The Big Easy
As this is a menu editor, you're now in a position to mess this about any way you want. I wouldn't recommend you do so at this stage, but to get a feel for the possibilities try putting a tick in one of the boxes in the third column marked 'Hidden', perhaps on the line labelled 'About Xfce'. Save your edit with Control-S, close the Menu Editor, and return to the standard AA1 desktop. Now you'll see that when you right click to bring up the Desktop Menu, the About Xfce entry has disappeared.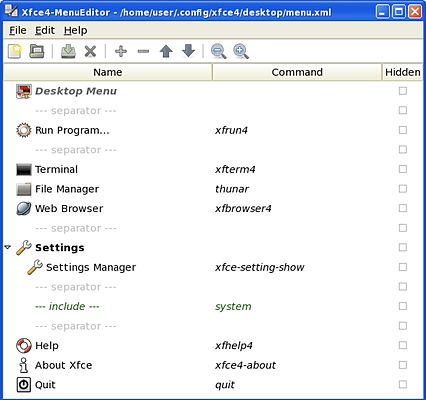 Messing with the Menu Editor
Doing this is, by the way, totally unfair to a brilliant Frenchman called Olivier Fourdan, the creator of Xfce credited here, so I suggest you change this back again.
A more useful tweak might be to add a second Workspace in the 'Workspaces and Margin' dialogue box. This will give you a pair of 'virtual desktops' you can switch between using Alt-Left-Cursor and Alt-Right-Cursor. Crude but effective, and certainly improvable - with different-looking desktops, for example; all suggestions welcomed.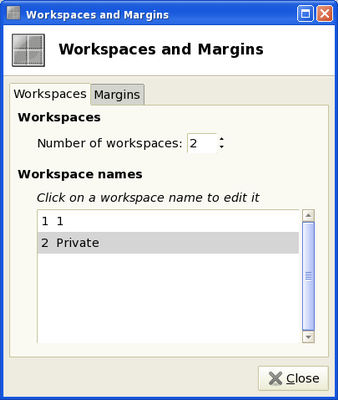 Create a virtual desktop or two
Screenshots
The AA1 lets you take a screenshot simply by pressing the Print Screen key. However, this won't work when you have a desktop menu open. To take the shot of such a menu requires a command-line operation.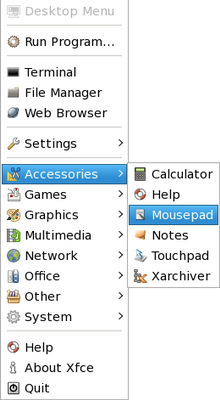 Open the 'Run Program' dialogue box by pressing alt-F2. Type the following command:
gnome-screenshot --interactive
This opens a very flexible Take Screenshot dialogue box that gives you a choice of grabbing the whole desktop or just the current window, and also allows you to set a delay. A nice lengthy delay of 15 seconds gave me time after I pressed the Take Screenshot button to open up the Desktop Menu.
Gnome-screenshot is also available on the MSI Wind. Alas, it's an older version which lacks the 'Select Window' and 'Delay' functions. On the Asus Eee PC, the Screen Capture icon under Work > Accessories evokes the fully functional Ksnapshot screen grabber.
Sponsored: Minds Mastering Machines - Call for papers now open