Nokia hasn't included a huge amount of on=board storage - 140MB of user memory. But it includes a 1GB Micro SD memory card in the box. High capacity Micro SDHC cards are supported too. Slip in a new card loaded with music, and the music player will quickly auto update the track listings with no fuss.
The 5320 may not be as slick as some touchscreen smartphones we could mention, but the S60 browsing experience is brisk and effective enough for a mid-tier mobile. You can get a sideways full-screen view - there's no accelerometer for auto-switching - page overviews, zoom options and a handy navigation toolbar to help you negotiate full websites. You can also subscribe to RSS feeds.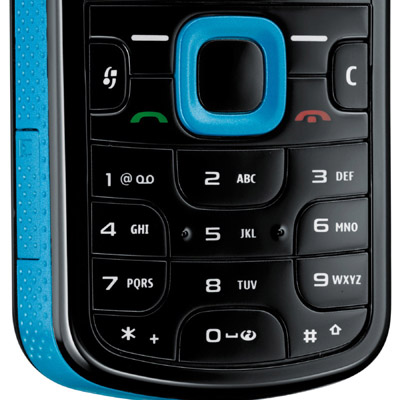 There's an eight-way control for gaming
Nokia hasn't paid the same attention to imaging here as it has to music. While the twin-LED flash on the outside is promising, the underwhelming two-megapixel camera is just a run-of-the-mill effort, with some standard-issue cameraphone settings adjustments for white balance, colour effects, multiple-shots and so on.
But there's no autofocus system, and image quality is unremarkable – shots taken in normal sunlight are soft, and colour rendition is lacklustre. Indoors, images are grainy and of generally poor quality. The flash does add some illumination in darker conditions, but doesn't improve quality in detail or colour.
Video shooting quality is distinctly limited too, capturing at maximum 320 x 240 (QVGA) resolution at 15f/s for typically ordinary phone footage. It's not all bad news on the video front: RealPlayer lets you watch video you've downloaded or copied onto the phone smoothly at good quality in full-screen mode - even if the display isn't that huge.
As well as the flexible eight-way navpad, several of the other buttons can be co-opted for the sophisticated N-Gage games you can download to the 5320. The gaming controls feel good to use and responsive in action.
COMMENTS
Not great....
The phone looks cheap and tacky at best, and the blue version just looks truly awful. 1GB of memory for a phone where the chief selling point is music is really poor, what considering the low-price nature of flash memory these days they could have doubled that without a significant change of cost. A giant like Nokia would perhaps pay a couple of quid extra for a 2GB card instead, whereas it will cost the end-user more than that.
I haven't played with the interface on this phone but then I can't really be unbiased about it as I don't generally get on with Nokia interfaces. If the music player is similar to their earlier phones then it will be uninspired and the part-working "say and play" facility is nothing more than a gimmick.
I had a similar gimmick on a Sony Ericsson phone I had, which you could shake to change tracks. You had to hold down a button to do this though (which kind of defeated the object!) and aside from the button being tiny and hard to press, it was hard to determine whether your shake would move forward or backward a track, or move to a random one.
"Say and play" will be something you use about ten times to show your mates, which subsequently will laugh at you when your phone plays "Barbie Girl" instead of "Basket Case".
With the phones on the market at present, this doesn't provide anything significantly new or different. Aside from a fairly reasonable price I don't see any reason to choose this phone over any other offering on the market.