Nokia 5320 XpressMusic mobile phone
Turn on, tune in... and your calls won't drop out
Review Nokia has cranked up the volume of its mobile music message recently with the debut of its Comes With Music download service and the unveiling of its touchscreen 5800 XpressMusic handset.
At the same time, Nokia has also been reinforcing its band of XpressMusic devices with the release of some tidy if relatively low-key music-majoring handsets. Step up, the Nokia 5320 XpressMusic, the smarter brother to the asymmetrically-aligned 5220 XpressMusic.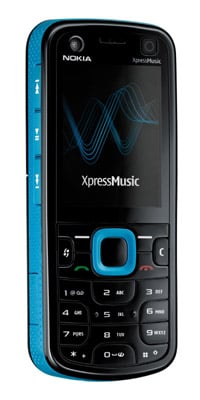 Nokia's 5320 XpressMusic: MoR rather than Alternative
The 5320 is more middle-of-the-road sized and less angular than the skinny-bodied 5220, but its conventionally-shaped bodywork has a typically eye-catching XpressMusic paint job – glossy black with electric blue or red side panels and detailing – and dedicated music player buttons are lined up on the side in familiar XpressMusic style.
Music player performance is naturally at the core of this phone's appeal, but this particular XpressMusic mobile has a bit more below the surface than simply a decent audio chip and music software. It's built on the Symbian S60 smartphone platfor, giving it a good base of pre-loaded applications and scope for adding a whole bunch more. It's one of Nokia's more affordable S60 handsets, too, as Nokia continues to spread smartphone functionality lower down its range.
With smartphone gadgetry comes HSDPA high-speed data connectivity, providing fast 3G links for browsing, downloading, streaming, and for the web-based applications Nokia has squeezed in. Alas, there's no Wi-Fi to go with it, reflecting the more cost-conscious construction of this handset. Nokia's Music Store track download service is available on this handset, although initially at least, this isn't one of Nokia's Comes With Music-sporting devices.
There is a touch of musical novelty introduced here though. Nokia has included a "Say and Play" option, a piece of voice-control tech that enables you to call up a song by pressing a button and saying its title, or the name of an artist, album or playlist.
Sponsored: Minds Mastering Machines - Call for papers now open