Terror in orbit: ISS piss recycler in fire alarm mishap
Golden-Pond™ drinks module moistens space pants brows
A quarter-billion-dollar recycler unit - shipped into orbit aboard the space shuttle so as to slake the thirst of hardworking astronauts with a revitalising crystal flow of their own reprocessed urine - is playing up.
According to the AP, space aces aboard the International Space Station (ISS), to which the shuttle Endeavour is currently docked, had managed to produce a "test batch" of urine by Thursday afternoon.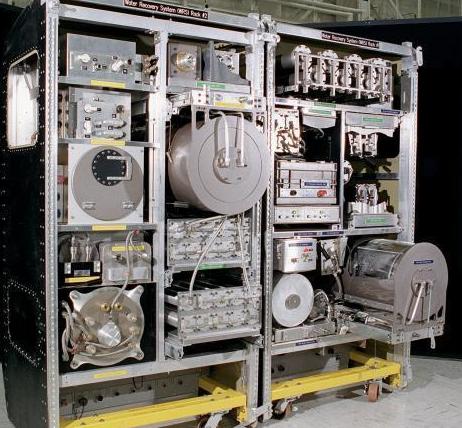 Many a slip 'twixt the cup and the ... well.
No doubt parched after their exertions in unloading the shuttle's cargo of improvements to the station - of which the recycler is only one - the thirsty astronauts fired up the golden shower reprocessor unit. (Suggested trade name: Golden Pond™.) Unfortunately, a loud fire alarm was triggered at once, doubtless causing the luckless void-voyagers to fear that the machine had managed to create some kind of fearful piss-based combustible* rather than the wholesome thirst-quenching refreshments they had been looking forward to.
The threat of a devastating golden fire or explosion gutting the ISS was no doubt a sobering one, possibly leading to the unplanned escape of some potential recycler feedstock into the station's atmosphere. Crafty NASA lag-boffins had anticipated this, in fact, as the machine is designed to harvest evaporated bodily fluids as well as those deposited directly.
The fire alarm, heard over the radio, reportedly startled two astronauts doing maintenance work outside the station in spacesuits. Despite the sudden panic, however, neither of them allowed their toolbags to get away from them on this occasion.
The fire alarm was subsequently found to be spurious, and NASA ground controllers monitoring the complex urine-extractor hinted that snags in its embedded software might be to blame.
"These are the growing pains we expect to see," flight director Ginger Kerrick told reporters eager for details on the urine-related uproar.
"These are very complicated pieces of equipment with very complicated software to control them."
Once the re-wee machine is up and running smoothly, it's expected to allow the ISS to support six astronauts rather than the current trio. ®
Bootnote
*We are not making this ground for fear up. Urea-related compounds can in fact make effective explosives. Consider this text on fertiliser bombs: "Urea nitrate is also considered a type of fertilizer-based explosive ... Urea can be derived from concentrated urine."
Sponsored: Minds Mastering Machines - Call for papers now open