NASA readies remodeled ISS ENose
Smells like Endeavour team spirit
NASA astronauts aboard Endeavour's STS-126 mission will soon be testing the space agency's latest generation of "electronic nose," designed to monitor the International Space Station's crew cabin for harmful chemicals.
As a humanitarian - or rather, robotarian gesture - we hope they'll install the experimental "ENose" away from the ISS's new urine recycler.
Air quality issues have troubled both the ISS and Russia's former space station Mir. But because the human olfactory system can't detect many substances until they are already at a hazardous level, in most cases the chemicals were identified only after the crew was thoroughly exposed.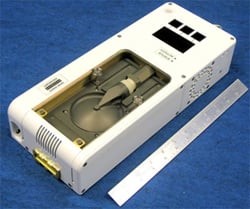 The ENose: quite a schnoz
After the shoebox-sized ENose is unpacked in December for a six month demonstration, it will continuously monitor and quantify leaks and spills from chemicals such as ammonia, mercury, methanol and formaldehyde.
NASA's Jet Propulsion Laboratory, which built and manages the device, explained that it contains an array of 32 sensors to "sniff" out organic and inorganic chemicals. The sensors are composed of polymer films that change their electrical conductivity in response to different chemicals present in the air. The unit fits into the ISS Express Rack, which will transfer data to a support team on Earth.
"This ENose is a very capable instrument that will increase crew awareness of the state of their air quality," Carl Walz, astronaut and director of NASA's Advanced Capabilities Division, said in a statement.
"Having experienced an air-quality issue during my Expedition 4 mission on the space station, I wish I had information that this ENose will provide future crews. This technology demonstration will provide important information for environmental control and life-support system designers for the future lunar outpost."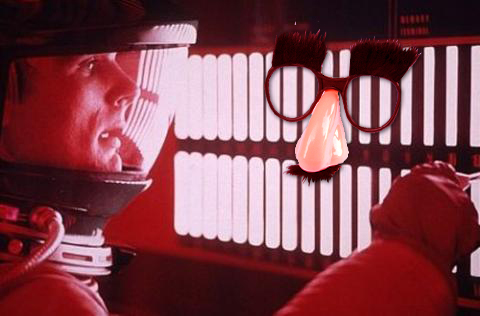 This mission is too important for me to allow you to smell it, Dave.
The ENose is expected to be able to alert ISS astronauts if there are any air-contaminating chemicals on its "watch list." If a toxic leak occurs, the crew can wear breathing apparatuses until the ENose detects the space station's air-filtration system has returned the cabin's air to a safe condition.
The ENose presently orbiting Earth is the third generation of the device. The first Enose flew with John Glenn on the STS-95 shuttle mission in 1998. Version 1.0 could only detect 10 compounds and lacked the capability to analyze the data immediately.
That important feature was added to the second generation of ENose, which was extensively ground-tested but never made it outside the atmosphere.
The third version of the ENose is theoretically capable of detecting several thousand types of chemicals, although it's currently being focused on 10 substances. The ultimate goal is to detect between 20 and 30 substances, in mixtures of up to three at a time. ®