Hitachi GST spots oyster, seeks HDD pearls
Storage doesn't have to spin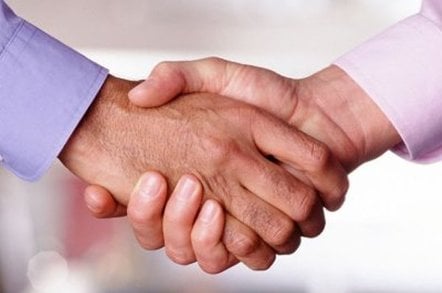 Comment When you are recovering from a long period of hard times and light appears at the end of the tunnel and gets closer and closer until you emerge into glorious daylight, you get a spring in your step and start making plans. Now you're back on your feet, the world becomes an oyster again, and you go off in different directions pursuing pearls. That's the feeling I get talking to Hitachi GST.
There are three hard disk drive companies making profits and Hitachi GST is one of them. It's feeling its technological oats, it's beginning to think about spreading its wings and there's a more confident air coming from the company. That's what four quarters of profit does for you when, a year or so ago, you were the subject of sell-off rumours.
The year of profit is due to disk market volume growth, a fully refreshed product line with component count reductions lowering costs, and overall cost base reductions such as the Mexico plant closing. So says Nick Kyriacou, the company's director for EMEA. It's just as well - the HDD market is facing slower growth in 2009.
After being accustomed to a 12-15 per cent annual unit shipment growth rate, it's looking at a 6-8 per cent rate next year. Let's assume that average system prices (ASPs) continue declining and that could mean the industry as a whole earning less revenue in 2009, putting pressure on the weaker players, the ones not making a profit, such as Fujitsu, Samsung, and Toshiba.
HGST and flash
What about solid state drives (SSD)? What does Hitachi GST think of these? Kyriacou said, carefully: "We're a storage company. SSD is part of the storage industry. We've not made any public announcements but, as a storage company, we must be seriously considering it."
Ah. With Seagate that makes two HHD manufacturers intending to, or thinking seriously about, adding SSD products alongside HDD product. Western Digital? I think I'll stick my neck out and say it would be almost bizarre if WD wasn't carefully evaluating SSD technology as an augmentation of its product line.
Kyriacou said SSDs had appeal not just for higher IOPS but also for good IOPS per watt. He doesn't think SSDs are as interesting as they once appeared for notebooks though, not at HDD capacity points. Fair enough for the 8-16GB capacity netbooks, but at present, SSDs don't offer enough of a performance or battery life boost and are costly as well for notebooks needing 150-250GB or more of persistent storage.
He says Hitachi's latest 500GB 2.5-inch mobile drive has a low enough power draw to make it very hard for notebook SSDs to provide any significant battery life extension compared to it at all. He doesn't see notebook SSD use becoming mainstream at HDD capacity points.
However, Samsung has just announced its 256GB SSD for notebooks that does sequential writes at up to 200MB/sec (seq' reads: 220MB/sec), draws 1.1 watts in average use and can extend battery life, Samsung says, by up to 40 minutes compared to an equivalent notebook with a 7200rpm hard drive. We don't know the price of this but, given the pace of development and level of competition in the notebook flash arena, we could be seeing much greater SSD penetration there by the end of next year.
Kyriacou said it was far too expensive for new entrants to the NAND flash foundry business to emerge. We all know there is too much flash fab capacity for the market now anyway. Apart from that comment, meaning Hitachi would buy in flash chips if it entered the enterprise SSD market, he didn't offer thoughts on SSD controller sourcing or interfaces.
Sponsored: Minds Mastering Machines - Call for papers now open