Yamaha DVX-1000 2.1 home cinema system
Only three speakers but an eight-channel experience
But there are some very useful manual adjustments that can be made to get the most out of the system. The volume and delay levels on the 100W speakers - an 11cm woofer partnering a 2.5cm soft-dome tweeter with an edgewise-wound voice coil - can be adjusted to fine-tune the system, and you can adjust to a narrow or wider surround stage to accommodate one or many viewers.
Yamaha claims that no less than seven different technologies have gone into creating the Air Surround Xtreme effect, the chief of which is what Yamaha claims is the world's first 24kHz Head-Related Transfer Function (HTRF), which mimics how humans spatially locate the sounds that enter their heads through their ears.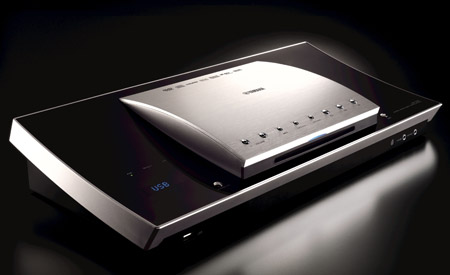 A rather stylish head unit
HRTF has been done up to 8kHz, but Yamaha says that increasing this to 24kHz enables much more accurate audio imaging. Now, if anyone is going to pull this kind of thing off convincingly, it's Yamaha. For years, it has busied itself with psycho-acoustic technologies so users of its high-end receivers could make music sound like they were in Carnegie Hall.
While some of the past indulgencies could be seen as just that, the technology employed here delivers a really stunning performance. Any concerns about the lack of a dedicated centre channel are dismissed as vocals come over clear and tight.
So much emphasis has been placed on the surround effect abilities of the machine we decided to give it a real work-out with the opening destruction scene from the movie Transformers. Bits of shattered helicopter, planes, ricocheting bullets and bits of bone fairly flew around Register Towers. Indeed, from just three speakers the surround level achieved is one of the best we have ever heard from this type of system.
The final piece of the audio jigsaw is delivered by the unit's very capable sub-woofer. The sub uses Yamaha's second-gen active Servo Technology (YST II), which is designed to make the sub and the amp work closely together so the speaker delivers as close to linear motion as possible. Indeed, the sub-woofer growls and rumbles in perfect time with the on-screen action and really does deliver that extra dimension of depth and impact which so many subs lack.
Another useful audio option is the ability to pick between DVD- and CD-specific settings. Movie mode ensures that dialogue is clear, while emphasising the rear channels. Music Mode is designed to provide full-frequency clarity.
Sponsored: Minds Mastering Machines - Call for papers now open