Yamaha DVX-1000 2.1 home cinema system
Only three speakers but an eight-channel experience
Review The DVX-1000 promises to be the last word in 2.1-channel home cinema, delivering a level of surround sound not heard before from a three-speaker system. Or so Yamaha would have us believe.
It claims the DVX will deliver a 7.1-channel experience from just three speakers, a technique Yamaha's marketing droids have dubbed Air Surround Xtreme. Let's see if it manages it.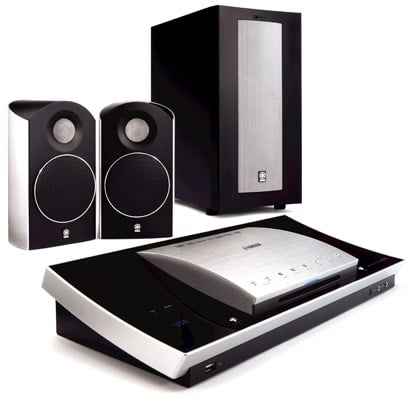 Yamaha's DVX-1000: 7.1 sound from a 2.1 set-up?
The first clue to the genuine power under the DVX's hood comes when you unpack the sub-woofer, an absolute brute - do not drop it on your foot - with a top vent, large heat sink and 16cm driver. Also housing the 2 x 90W amplification unit, the sub boasts a decent sized transformer, custom-made capacitors, separate analogue/digital sub-systems and shielded digital circuitry, all designed to prevent signal interference.
The rest of the system feels equally solid, with other early signs of quality including decent screw-fit cable grips on both the sub-woofer and the speakers.
Set up is easy. A 13-pin system cable connects the sub-woofer to the head unit. Wire the speakers up, connect the head unit to your TV and you're ready to go. The only slight quibble here is that the cable connectors on the sub-woofer are right under the heat-sink, which will make those with chubby fingers struggle a little when connecting the cables.
The read-out on top of the machine can't be seen unless you're standing right over the unit. However, all the unit's functions can be accessed from a pretty well laid-out remote and viewed on the TV, so this negates any real control issues.

Well connected
Turning the DVX-1000 on brings the set-up screen into view, with it the straightforward process of entering the various screen and audio options. Happily, most of these can be set to automatic so that the unit will recognise the screen format and audio stream, and select the appropriate settings.
Sponsored: Minds Mastering Machines - Call for papers now open