Nvidia pitches Tesla GPU-as-CPU tech 'personal supercomputer'
This time it's real, apparently
Nvidia has introduced a desktop computer architecture based on its Tesla graphics chip and it's calling the system the first "real" desktop supercomputer.
The typical spec comprises an AMD four-core Phenom processor plus a trio of Tesla C1060 two-slot cards and a Quadro FX card to take the GPU total to four. The Quadro handles the graphcs while the three Teslas combine with Nvidia's CUDA GPU-as-CPU software to crunch numbers.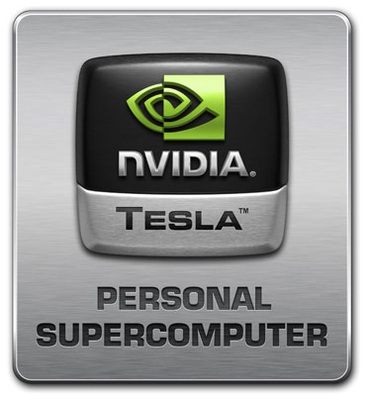 Look for 4Tflop computing wherever you see this sign
The upshot, the chip maker claimed, are machines the provide 250 times the processing power of a conventional PC.
Yes, and many, many more times the price too. One of Nvidia's system builder partners is US company Colfax, and its base-spec CXT3000 PSC system with Windows XP 64-bit, three Teslas, a Quadro FX 370, a 2.2GHz Phenom 9550, 2GB of 800MHz DDR 2 memory, a Western Digital 160GB 7200rpm 3Gb/s SATA hard drive and a multi-format DVD writer will set you back $6574 (£4397/€5206).
That said, it's not a rig for gamers - well not many of 'em, anyway - but for boffins who need to process highly complex data models. Think Folding@Home running many times more rapidly than it can manage on your own PC CPU's downtime.
Up the CXT3000 PSC's graphics card to a Quadro FX 5800, and the thing's capable of a 4Tflops of floating-point maths.
In addition to Colfax, other specialist workstation suppliers offering Tesla boxes include UK firms Armari, CAD2 and Viglen; in the US, the list includes Amax, Boxx, Microway and Western Scientific. Mainstream suppliers set to offer Tesla systems globally include Asus, Dell and Lenovo.
Sponsored: Minds Mastering Machines - Call for papers now open