Sapphire Radeon HD 4850 X2 dual-GPU graphics card
One card, two very fast graphics chips
Moving on, the Sapphire 4850 X2 has a core speed of 625MHz with an effective memory speed of 1986MHz. It zipped through all the tests and compared very favourably with the GTX 280 in 3DMark and less well in Far Cry 2. We had the quality settings in Far Cry 2 set to Very High, which is a stern test but the 4850 X2 pulled through. The power draw was higher than GTX 280 in Windows at 165W but under load the figure was the same.
Power Draw Results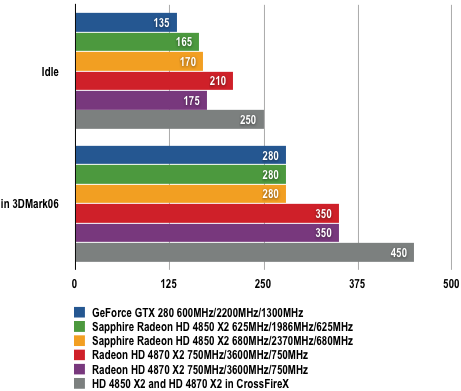 Power draw in Watts
Nb. the two 4870 X2 scores use, respectively, the Catalyst 8.551.1.71310 and 8.11 drivers
We used the Catalyst 8.551.1.71310 driver to overclock the Sapphire to a core speed of 680MHz and memory speed of 2370MHz. This raised performance by ten per cent in 3DMark and Far Cry on DirectX 9 although this advantage dropped to a mere one frame per second in Far Cry 2 when we used DirectX 10.
The 4870 X2 uses the same technology as the 4850 X2 except that the core speed is higher - 750MHz - and the effective memory speed is a colossal 3600MHz due to the nature of GDDR 5 memory. This extra speed delivered 20-30 percent more performance in 3DMark compared to 4850 X2, and in Far Cry 2 the 4870 X2 delivered a few extra frames per second over 4850 X2. The power draw of the 4870 X2 is scarily high: 210W in Windows and 350W under load.
Just for larks, we hooked up the 4850 X2 and 4870 X2 in CrossFireX which cranked up 3DMark performance by a small amount. However, it clobbered performance in Far Cry 2, which pretty much sums up our experiences with CrossFire over the years.
The Sapphire HD 4850 X2 was horribly noisy because the drivers were only controlling one fan while the other fan roared away at full speed. Sapphire tells us that it will be releasing an updated Bios that will fix the noise issue in conjunction with a revised driver.
Verdict
The Sapphire HD 4850 X2 delivers the same performance as a single GTX 280 but unfortunately the horrendous dollar exchange rate means that they also cost the same. And that makes the Sapphire look far too complicated when it is compared to the Nvidia alternative.
Sponsored: Minds Mastering Machines - Call for papers now open

Sapphire Radeon HD 4850 X2 dual-GPU graphics card
Sapphire rolls out a Radeon HD 4850 X2 with two GPUs and 2GB of memory. And a price tag north of £300.