PETA cooks up gory game in Cooking Mama protest
Shut the pluck up
Animal Rights group PETA has designed a gory cooking videogame that's definitely not for vegetarians, because it's intended to shame the Cooking Mama videogame series which the group's claimed is too meat focused.
Can't see the video? Download Flash Player from Adobe.com
To play the fullsize version click here
Cooking Mama: Mama Kills Animals is an unauthorised PETA edition in which gamers prepare a Thanksgiving dinner by going through the motions of plucking a turkey's feathers, pulling out its guts and cutting off the head.
A cleaver-wielding Mama takes delight in the gore and criticises you for not being vicious enough. But in the end, Mama has a change of heart and replaces her bloodlust with a craving for tofu-formed mock-turkey.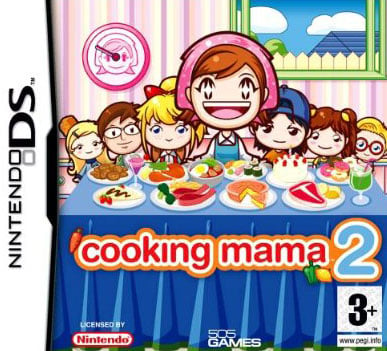 One of Majesco's Cooking Mama games
PETA said that Majesco, the company behind the Cooking Mama series, has made the games too "heavy on dishes that are made from dead animals". In the group's opinion, the only things missing from Majesco's cooking games are blood and gore.
"We're having a bit of fun at Mama's expense, but there's nothing funny about the suffering endured by turkeys and other animals who are killed for food," said Joel Bartlett, Marketing Manager at PETA.
Register Hardware's sceptical that the game will have much effect - not least because it's actually a lot of fun to play. Admittedly it's quite gory and difficult to rip the bird's feathers out, but we've seen worse PG-rated films.
Pass the cranberry sauce, ma...
COMMENTS
re:Re: What if there was a PETPV
No but they do have feelings and go into shock when someone abuses them. Plus there was something else but i can't quite put my finger on it but its based on PETA going from Animal rights that you can get behind to a brainless propaganda machine.
re: What if there was a PETPV?
Plants don't have a central nervous system and therefore don't feel pain.
I'm sure you knew that, or maybe you really are stupid.
Meh
[Activating Rant Matrix]
After nailing a score of 1152 i must be more evil than a room full of Hitlers! But that aside i must wonder what monstrosity i wrought when apparently "thanks to me" Cooking mama now loves animals and instead makes a turkey out of TOFU after butchering an 'innocent, defenseless animal'. Oh yes PETA, this is the 21st century and its called -survival-
Also if PETA had their way then the whole world would likely be at the very least be forced into becoming veggie. Then you'd have the problem of growing enough plants for more than a few billion hungry people, plus pests, drought, thieves trying to feed their malnourished family and although there are vegetables that provide iron, i'm to understand that you'd need to eat way more in order to match the protein levels offered by a Tender steak. Unless vitamin supplements are added but thats similar to a draw full of pr0n.
[Deactivating Rant Matrix]
aaahhhhhh
Well,
I don't like veggie propaganda, but I am a veggie. It's great.
One day, not in our lifetime, the civilised world will be meat free and religion free.
I hold no hope for those backward cavemen in the middle east though...
What if there was a PETPV?
As in People for the Ethical Treatment of Plants and Vegetation. As humans must consume food for sustenance (sorry, we are not flora--the best we can do with sunlight is to produce Vitamin D). And some critical substances such as Vitamin B12 *only* occur in animals (either that or eat up lots of bacteria out of the ground). So suppose some people come to a realization that plants are alive as well and therefore should deserve the same protections and care as animals. Suddenly, you have a group of people who would be shouting at us to start caring for plants and eat animals (who also eat plants) instead. Put them together with PETA, who wants us to do the exact reverse, and you're up the proverbial creek. We can't eat plants, we can't eat animals, and we can't photosynthesize--IOW, we starve.