Intel celebrates Core i7 launch with Dell and Gateway
San Francisco shindig
Intel celebrated the official launch of its Core i7 processor at an event last evening in San Francisco, featuring the first high-end desktops running the next-generation micro architecture.
It's spinning the chip family offering as "the fastest processor on the planet." Indeed, by our count, they're certainly monsters. Expensive little monsters.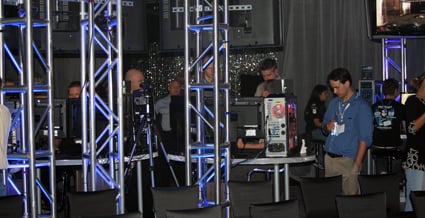 The first chips released are quad-core desktop models, the 920, 940, and 965 Extreme. Clock speeds are 2.66GHz, 2.93GHz, and 3.2GHz receptively. Prices in batches of 1,000 are $284, $562, and $999.
PC vendors jumping aboard with i7 for launch include Dell and Gateway (owned by Acer). Intel senior veep Pat Gelsinger said the company has already shipped about 100,000 Core i7 chips thus far and is expecting around 500 different systems to offer the processor line.
Dell is now punting the chip on its Studio XPS system with a Core i7-920 or -940 along with Intel's new x58 chip set, starting at about $1,000.
Alienware, the high-end gaming wing of Dell, offers a choice of the three Core i7 chips in Area-51 X-58. The PC starts at about $1,700 with the Core i7-920. Upgrading to the Core i7-965 adds an extra $1,200.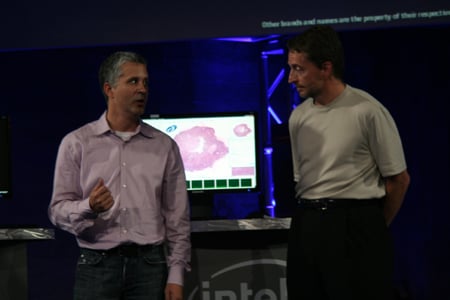 Gelsinger (right) with Dell's GM of Gaming, Arthur Lewis.
Gateway's first i7 box is the FX6800-01e, which uses a Core i7-920 processor and starts at $1,250. The high-end FX6800-05 swaps the chip for a i7-940 CPU and runs for $3,000.
Acer's veep of desktop and server products Garry Elsasser said moving to the Core i7 was "the smoothest launch I've been involved in." He added the company has measured a 61 per cent performance improvement over same PC model offered last week by including the new chip.
Intel's Gelsinger said next up for the Core i7 family is chips designed for servers and workstations, which should debut in the first quarter of next year. Later in '09, Intel will pitch client versions of i7 with a little more mainstream price points. ®
COMMENTS
games!
the only thing i really care about is games, in terms of power.
so let's see some comparisons how the i7 stacks up against the c2d and the c2q's?
cheers,
bill
p.s. sutff and nonsense: http://www.eupeople.net/forum
i7 launch
intel will take the lead for a couple of months and then AMD will strike back with a better proccesser.i support AMD
AMD HyperTransports
While AMD and Intel have gone back and forth in terms of CPU speeds and performance, I've preferred AMD's HyperTransport with the dedicated memory controller on the CPU itself, rather than requiring the NorthBridge to deal with all main memory access. Now that Intel is switching over to the same type of design, one of the main advantages of AMD's architecture is now moot.
I don't really care about Intel's Hyperthreading support, as a 4-core CPU running 1 thread apiece is still going to potentially quite busy in terms of memory access and so forth, and relatively few apps out there are going to show a difference between 4 and 8 threads. On the other hand, the ability to bump up the clockspeeds by a notch or two when the system is mostly running a single thread strikes me as a nifty idea.